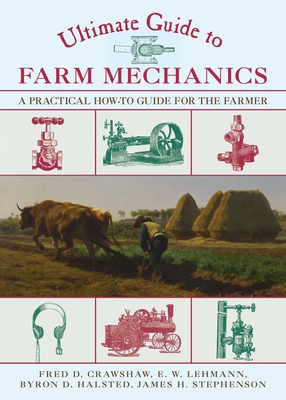 Ultimate Guide to Farm Mechanics (Paperback)
A Practical How-To Guide for the Farmer (Ultimate Guides)
Skyhorse, 9781629144450, 1056pp.
Publication Date: February 3, 2015
* Individual store prices may vary.
Description
A reference and instruction guide to the mechanics of working the land.

The Ultimate Guide to Farm Mechanics combines three classic farming texts for the first time, compiling knowledge from the best sources published as far back as 1884. A comprehensive reference book that belongs in any farming household today, it offers an array of farm knowledge for both experts and amateurs alike.

The book is divided into three parts: the first covers general skills such as woodworking and blacksmithing, the second is dedicated to farm engines and how to run them, and the third teaches readers how to construct classic labor-saving devices such as an effective milking stool, plowing gear for a kicking mule, and a nest for egg-eating hens. Readers are taught to mend broken tools, make fertilizer and corn fodder, buy engine parts, and manage gasoline engines safely and economically.

Filled with intricate illustrations, photos, and diagrams, Ultimate Guide to Farm Mechanics offers a wealth of knowledge still indispensable to the modern-day farmer. Both the casual and amateur reader will learn valuable lessons from the old teachers of early twentieth-century farming in the United States.
About the Author
Fred D. Crawshaw was a professor of manual arts at the University of Wisconsin. Born in Minnesota in 1874, he received his ME in 1910 from Worcester Polytechnic Institute. He lived in Madison, Wisconsin.

E. W. Lehmann was a professor and the chair of the department of agricultural engineering at the University of Illinois from 1921 to 1955. He lived in Champaign, Illinois.

Byron D. Halsted was born in 1852 in Venice, New York, and was a noted botanist and educator. He received degrees from Michigan State University and Harvard University and was managing editor of the American Agriculturist, where he first published Farm Conveniences and Barns, Sheds, and Outbuildings. Halsted lived in Newark, New Jersey, and died in 1918.

James H. Stephenson was a mechanical engineer and author of several self-educational books on the subject of tractor farming and tractor engineering. He lived in Chicago, Illinois.