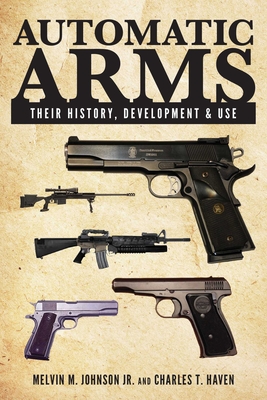 Automatic Arms (Paperback)
Their History, Development and Use
Skyhorse, 9781629145181, 368pp.
Publication Date: January 6, 2015
* Individual store prices may vary.
Description
The evolution of automatic weapons is one of the most significant developments in weapons history. While this development has been filled with disagreements, controversy, and stray hurdles, out of all of this tumult, shouting, and shooting has come the progress in firearms from the days when it was necessary to build a fire under a gun to make it go off to the "you press the button and they do the work" automatic firearms of the present day.

In 1941, Melvin M. Johnson Jr. and Charles T. Haven, both well-established experts on firearms and ammunitions in their day, commemorated this development in Automatic Arms: Their History, Development and Use. The topics they illuminate the reader on include:

History and development
How they work
How to keep them firing
How they may be employed in combat
Miscellaneous considerations

In the authors' foreword, they state, "There has been a great deal of general discussion about various automatic weapons pro and con, and naturally there have been misunderstandings and misinterpretations." They succeed immensely in their endeavor to clear up misunderstandings and misinterpretations with the clear, concise language they use in discussing this most notable of historical developments.

Skyhorse Publishing is proud to publish a broad range of books for hunters and firearms enthusiasts. We publish books about shotguns, rifles, handguns, target shooting, gun collecting, self-defense, archery, ammunition, knives, gunsmithing, gun repair, and wilderness survival. We publish books on deer hunting, big game hunting, small game hunting, wing shooting, turkey hunting, deer stands, duck blinds, bowhunting, wing shooting, hunting dogs, and more. While not every title we publish becomes a New York Times bestseller or a national bestseller, we are committed to publishing books on subjects that are sometimes overlooked by other publishers and to authors whose work might not otherwise find a home.
About the Author
Melvin M. Johnson Jr. was born in Boston in 1909. He became a member of the Marine Corps Reserve in 1933 while studying at Harvard Law School. While in law school, he became deeply involved in the research, study, and design of firearms, and, in 1935, he designed the M1941 Johnson rifle. He is also the coauthor of For Permanent Victory and Ammunition: Its History, Development and Use, 1600 to 1943—.22 BB Cap to 40 mm. Shell. He died in 1965.

Charles T. Haven was the coauthor of For Permanent Victory and Ammunition: Its History, Development and Use, 1600 to 1943—.22 BB Cap to 40 mm. Shell and author of Instruction Manual of the Johnson Light Machine Gun, Type H. He was also a regular contributor to gun magazines and annuals such as Gun Digest.
or
Not Currently Available for Direct Purchase