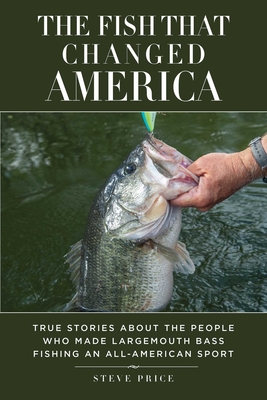 The Fish That Changed America (Hardcover)
True Stories about the People Who Made Largemouth Bass Fishing an All-American Sport
Skyhorse, 9781629145587, 320pp.
Publication Date: November 4, 2014
* Individual store prices may vary.
Description
From boats and baits to rods and reels to tips and tactics, bass fishing has been a magnet of innovation for almost a century.

Bass fishing changed from pastime to business in part because of competitive tournaments and the publicity they generated. That publicity, in turn, sparked a demand for more and more information from the tournament fishermen themselves—how they caught bass—so in essence, the sport fed upon itself. Author Steve Price has interviewed dozens of anglers over the past few years, and he fits each of their stories into a complicated puzzle that forms a comprehensive tale of competitive record holders and fishing industry insiders alike.

The Fish That Changed America is not simply about tournament bass fishing, although some of the stories included here do involve competitive anglers. Rather, Price has tried to embrace a wider view of the entire sport and to show how different facets of bass fishing meshed so perfectly at the same time, leading to the state of the industry today. The participants—those who laid the foundation for what all bass anglers today enjoy—tell their own stories of what happened during those not-so-long-ago years. Many of the stories, such as the standing room–only funeral for a famous largemouth bass, touch on far-ranging topics that all anglers will enjoy.

Skyhorse Publishing is proud to publish a broad range of books for fishermen. Our books for anglers include titles that focus on fly fishing, bait fishing, fly-casting, spin casting, deep sea fishing, and surf fishing. Our books offer both practical advice on tackle, techniques, knots, and more, as well as lyrical prose on fishing for bass, trout, salmon, crappie, baitfish, catfish, and more. While not every title we publish becomes a New York Times bestseller or a national bestseller, we are committed to publishing books on subjects that are sometimes overlooked by other publishers and to authors whose work might not otherwise find a home.
About the Author
Steve Price has been covering the sport of bass fishing for more than four decades, during which time he has written six books and more than three thousand magazine articles and hundreds of newspaper and Internet stories about the sport. His fishing features and photographs for Yamaha Marine Group have reached millions of readers around the world each month. He is a contributing editor to "Field & Stream" magazine and has served as a senior writer for B.A.S.S. Publications for more than thirty-five years. He was inducted into the Bass Fishing Hall of Fame in 2010.
Praise For The Fish That Changed America: True Stories about the People Who Made Largemouth Bass Fishing an All-American Sport…
"The Fish That Changed America by Steve Price is an exciting and detailed look at why anglers are so obsessed with bass fishing! The factual stories of how it all came to be and the lives of the pioneers involved, give me even more reason to love the sport!" —Michael Iocanelli, professional angler and TV personality

"No one but my good friend Steve Price could have written this comprehensive and highly readable book on bass and bass fishing. As a keen and longtime observer, he brings history to life through the unique first-hand accounts of the men who shaped the amazing growth of a great American sport." —Ray Scott

"If you fish bass, odds are you know who Steve Price is, because you've probably been reading his articles on the subject for years. His new book, The Fish That Changed America, is a dandy. Reading it is the next best thing to putting a 10-pounder in your live well." —Stan Fagerstrom

"If Price weren't already a Bass Fishing Hall of Famer, this book would make him worthy of induction." —BassFan

"The Fish That Changed America by Steve Price is an exciting and detailed look at why anglers are so obsessed with bass fishing! The factual stories of how it all came to be and the lives of the pioneers involved, give me even more reason to love the sport!" —Michael Iocanelli, professional angler and TV personality

"No one but my good friend Steve Price could have written this comprehensive and highly readable book on bass and bass fishing. As a keen and longtime observer, he brings history to life through the unique first-hand accounts of the men who shaped the amazing growth of a great American sport." —Ray Scott

"If you fish bass, odds are you know who Steve Price is, because you've probably been reading his articles on the subject for years. His new book, The Fish That Changed America, is a dandy. Reading it is the next best thing to putting a 10-pounder in your live well." —Stan Fagerstrom

"If Price weren't already a Bass Fishing Hall of Famer, this book would make him worthy of induction." —BassFan
or
Not Currently Available for Direct Purchase