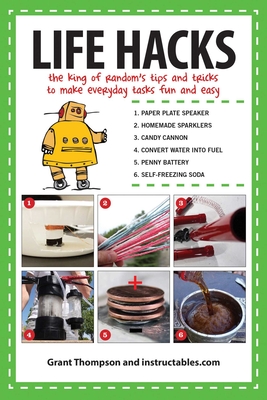 Life Hacks
The King of Random?s Tips and Tricks to Make Everyday Tasks Fun and Easy
Paperback

* Individual store prices may vary.
Description
For the past few years, Grant Thompson has spent his weekends starting fires, building cannons, and experimenting with dry ice and liquid nitrogen. He's made pumpkins explode, defied gravity, and discovered countless ways to make everyday life easier using ordinary items such as butter, suntan lotion, cupcake wrappers, and aluminum foil. His discoveries and experiments, many posted online to sites such as YouTube, have earned him the title of the King of Random.

With the help of the staff at Instructables.com, Thompson has compiled the best of his weekend projects in Life Hacks. With life hacks from the King himself, you'll see how easy it is to have better summers, less stressful holidays, and cooler—literally—birthday parties.

Following Thompson's instructions in this book, you'll be able to:
Make dry ice with a fire extinguisher
Create carbonated ice cream
Start fires with plastic water bottles
Charge your cell phone—using your own energy
Build working speakers for less than $1
And much more
Skyhorse, 9781629145884, 128pp.
Publication Date: September 2, 2014
About the Author
Instructables.com is a bona fide Internet sensation, a web-based community of motivated do-it-yourselfers who contribute invaluable how-to guides to the site on a wide range of topics, from gardening and home repair to recipes to gadgets that defy categorization. The site hosts more than 100,000 projects. More than 15 million people visit the site each month, leaving comments and suggestions on the ever-growing list of do-it-yourself projects.
or
Not Currently Available for Direct Purchase