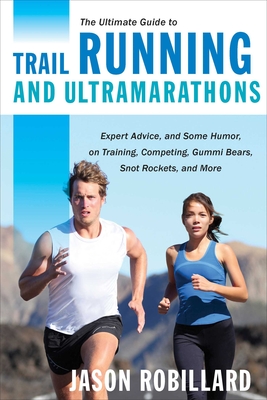 The Ultimate Guide to Trail Running and Ultramarathons
Expert Advice, and Some Humor, on Training, Competing, Gummy Bears, Snot Rockets, and More (Ultimate Guides)
Paperback

* Individual store prices may vary.
Description
Jason Robillard has been doing ultramarathons for many years, and started advocating for barefoot running before it was cool and is considered an authority on it.

In this guide, he teaches trail-running newbies and experienced marathoners essential survival skills and tips for running long distances: how to run in snow, ice, and mud; how to cross large streams of water; what to do when you have to go number 2 on mile 30 of a 50-mile run; preparing for trouble (building a fire, surviving in the heat and cold); running in thunderstorms.

The book is written with an irreverent sense of humor and touches on topics that many running books don't get into.

Skyhorse Publishing, as well as our Sports Publishing imprint, is proud to publish a broad range of books for readers interested in sports—books about baseball, pro football, college football, pro and college basketball, hockey, or soccer, we have a book about your sport or your team.

In addition to books on popular team sports, we also publish books for a wide variety of athletes and sports enthusiasts, including books on running, cycling, horseback riding, swimming, tennis, martial arts, golf, camping, hiking, aviation, boating, and so much more. While not every title we publish becomes a New York Times bestseller or a national bestseller, we are committed to publishing books on subjects that are sometimes overlooked by other publishers and to authors whose work might not otherwise find a home.
Skyhorse, 9781629147741, 352pp.
Publication Date: November 11, 2014
About the Author
Jason Robillard: Jason Robillard is a former high school psychology teacher turned nomadic adventurer. He is a running coach and consultant for the shoe industry, and has run road and trail races from 5Ks to hundred-milers. Jason is also a serial hobbyist that uses self-experimentation to explore activities like mixed martial arts, cooking, weight training, hunting, RVing, and magic. He is the author of The Barefoot Running Book and Never Wipe Your Ass with a Squirrel, and lives in Grand Rapids, Michigan.
or
Not Currently Available for Direct Purchase