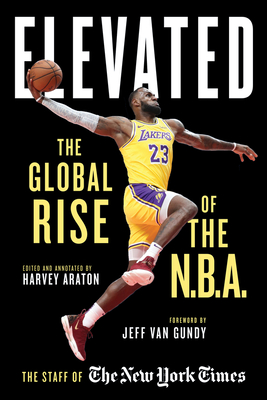 Elevated
The Global Rise of the N.B.A.
Hardcover

* Individual store prices may vary.
Other Editions of This Title:
Paperback (3/10/2020)
Description
Howard Beck. Marc Stein. Jonathan Abrams. Chris Broussard. Ira Berkow. George Vecsey. Mike Wise. Selena Roberts. Lee Jenkins. All have graced the pages of The New York Times, entertaining readers with their probing coverage of the N.B.A.: a stage on which spectacular athletes perform against a backdrop of continuous social change. Now, their work and more is collected in a new volume, edited and annotated by Hall of Fame honoree Harvey Araton, tracing basketball's sustained boom from Magic and Bird to the present.

Elevated provides a courtside seat to four decades of professional basketball. Both the iconic moments and those quieter, but no less meaningful times in between are here, from Wise riding around Los Angeles with a young Kobe Bryant on the eve of his first All-Star Game, to Stein declaring Giannis Antetokounmpo's "unspeakable greatness" to the world in a riveting profile. Rather than simply preserving the past, Elevated reexamines and further illuminates hoops history. This expertly curated collection features exclusive new writing by Araton and postscripts from the original journalists, revealing candid exchanges with NBA greats that didn't make the original newspaper edit and tracing the rise of a worldwide phenomenon from a contemporary vantage point.
Praise For Elevated: The Global Rise of the N.B.A.…
"Bird. Dr. J. Magic. Michael. LeBron. Durant. Curry. They're all here, and many more who may be less famous but are no less a part of the N.B.A. developmental fabric. These in-depth features and incisive commentary—enhanced by Araton's chapter introductions and multiple reporter postscripts telling the story behind the stories—are playfully and passionately chronicled by the staff of a truly global newspaper that has covered the sport across all borders crossed by the N.B.A."
— Jeff Van Gundy, from his foreword
 
"A wonderful, delicate, insightful book, and an exactly perfect gift for anyone who is just now beginning to love basketball or who has loved basketball for decades. There were so many times during it where, at the midpoint of a chapter, I'd remember some other bygone N.B.A. moment from my youth and then begin to hope that there'd be a section in Elevated about it later, and sure enough, more times than not, there it'd be, a handful of pages later, waiting for me, as though it knew I'd eventually come looking for it. Buy this book."
— Shea Serrano, author of Basketball (and Other Things) and The Rap Yearbook 
"I loved this book. It reminded me of why I fell in love with the N.B.A. The great Harvey Araton and his wonderfully talented NY Times friends bring back a lifetime of basketball memories. But they also reveal many new fascinating anecdotes about the evolution of the league, and its greatest players. If you love the N.B.A., this book is a must read."
— Mike Breen, N.B.A. broadcaster for ABC/ESPN and announcer for the New York Knicks
"There are few authors and subjects as perfectly matched as Harvey Araton and Elevated: The Global Rise of the N.B.A. Araton is the most influential and gifted writer ever on the N.B.A. and his ability to trace the storylines of the seismic shifts in the game's landscape are without peer.  If you care about the game and those who've most impacted its meteoric rise, Elevated is a must-read."
— Adrian Wojnarowski, ESPN Senior N.B.A. Insider and New York Times Best-Selling Author 
 
"The global phenomenon that is the NBA is now taken for granted, thanks to multiplatform exposure and the effect of social media on turning its stars into first-name icons. Amid all that, there is still fine sports journalism, as this collection of New York Times reporting shows. Editor Araton includes some of his own pieces but primarily provides context when introducing the work of such great journalists as Selena Roberts, Ira Berkow, Howard Beck, and Marc Stein. There's a thoughtful piece by retired great Oscar Robertson and a fantastic interview with Pat Riley, who won four NBA championships in Los Angeles and another in Miami. There's also a fascinating interview with Jason Collins, the first active NBA player to come out publicly as a gay man, and a fine account by Araton of the passing of the torch from NBA commissioner David Stern to his successor, Adam Silver. This is essentially a history of the modern NBA as reflected through the words of the sportswriters working for the nation's widely acknowledged paper of record."
— Booklist
 
Triumph Books, 9781629376509, 496pp.
Publication Date: April 16, 2019
About the Author
Harvey Araton has been a sports columnist for The New York Times since 1991, where he has covered ten Olympics and countless NBA finals, World Series, Super Bowls, and Final Fours. In 2017, Araton was honored by the Naismith Memorial Basketball Hall of Fame as the recipient of the Curt Gowdy Media Award. He is the author of several previous books, including When the Garden Was Eden and Driving Mr. Yogi.

Jeff Van Gundy is an ESPN N.B.A. analyst, 2017 FIBA AmeriCup gold medal–winning coach, and former coach of the New York Knicks and Houston Rockets