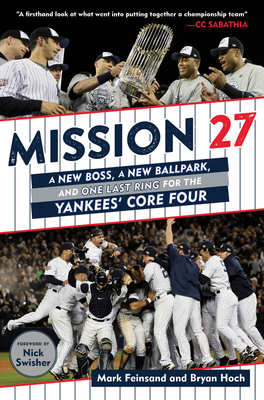 Mission 27
A New Boss, A New Ballpark, and One Last Ring for the Yankees' Core Four
Hardcover

* Individual store prices may vary.
Other Editions of This Title:
Paperback (9/29/2020)
Description
Boasting a mix of homegrown talent and All-Star signings, the 2009 Yankees were composed of the very best. With the previous season's failed playoff bid still as fresh as the paint job on the new Yankee Stadium, a 27th championship flag represented the singular objective of a squad that ultimately carved out a unique spot among the Yankees' pantheon of World Series teams.

It was the last title for the "Core Four"—Derek Jeter, Mariano Rivera, Jorge Posada, and Andy Pettitte—who would each retire over the course of the next five years. It was the lone title for Alex Rodriguez, Mark Teixeira, A.J. Burnett, and Nick Swisher, each of whom saw memorable peaks and valleys during their time in the Bronx. For CC Sabathia and Brett Gardner, it was their first championship, though the veterans were still in pinstripes as the latest generation of Yankees arrived for what they hope will be the next dynasty. Mission 27 is a thoroughly reported chronicle of an unforgettable season, packed with interviews with the full cast of key players, team executives, broadcasters, and more.
Praise For Mission 27: A New Boss, A New Ballpark, and One Last Ring for the Yankees' Core Four…
"For all of us on that team, 2009 was the year to remember. Mark and Bryan have done that season justice with this book. It took me right back into that clubhouse with my brothers."
—Alex Rodriguez, ESPN and FOX commentator/former Yankees third baseman
"The 2009 Yankees were an unforgettable group of guys who made my first year in New York the most memorable season ever.
Mission 27
gives you a firsthand look at what went into putting together a championship team and what it took for that team to win it all."
—CC Sabathia, Yankees pitcher
"2009 was the year of CC, A-Rod, Swisher, Tex, and more. Mark Feinsand and Bryan Hoch bring you every moment—on and off the field—of that wonderful championship season. I smiled through this whole book, reliving this magical year. Yankees fans, I promise you won't be able to put
Mission 27
down."
—Suzyn Waldman, Yankees' radio color commentator  
"The 2009 Yankees had it all: pinstriped legends yearning for one last ring, pricy imports under pressure to deliver, a glitzy new palace for the fans in the Bronx—and the game's biggest star, Alex Rodriguez, embroiled in an outrageous saga of shame and redemption. If you love the Yankees, you remember it well, but you don't really know the story until you read this book. I covered this team with Mark Feinsand and Bryan Hoch, and nobody had better connections— then or now—than they did. With fresh and fascinating insights never revealed before, this isn't just a walk down memory lane. It's a riveting, rollicking ride down the Canyon of Heroes."
—Tyler Kepner,
TheNew York Times
national baseball writer  
"Mission 27
 is packed with stories and anecdotes you either forgot or never knew. For Yankees fans, it's like another go-round on a great amusement park ride: the thrills all come back."
—Tom Verducci, 
Sports Illustrated
writer/FOX and MLB Network studio analyst  
"
Mission 27
truly gives you a behind-the-scenes look at the 2009 Yankees straight from the players and coaches who experienced it together. Reading this book takes me back on the field and in the clubhouse to relive that special season."
—Mark Teixeira, ESPN analyst/former Yankees first baseman  
"We all watched what happened on the field, but the stories behind the scenes make the organization's 27th title even more compelling. Although it's been 10 years,
Mission 27
makes it seem like it happened yesterday." 
—Michael Kay, YES Network play-by-play broadcaster  
"Often the best stories about a team surface only after diligent reporting years later.
Mission 27
, through the hard work of two beat writers who covered the 2009 Yankees, features a level of detail and inside access rarely seen in daily coverage. Readers will be astounded to learn about players with whom they are familiar but actually are getting to know for the first time."
—Ken Rosenthal, MLB on FOX reporter/MLB Network insider  
 "
Mission 27
paints the inside corner for all baseball fans who want a true look at the magic of the summer of 2009. Every page brings back incredible memories and stories that can only be told by two trusted writers who were with us for every pitch. Get your ski goggles ready and chill the champagne; this book wins it all."
—Phil Hughes, former Yankees pitcher  
"A decade after the Yankees' last championship comes the story of how it happened, with Mark Feinsand and Bryan Hoch offering fresh details from inside the clubhouse, the front office and the dugout. Finally, a book worthy of the incredible 2009 Yankees."
—Jeff Passan, ESPN MLB insider  
Triumph Books, 9781629376806, 304pp.
Publication Date: June 4, 2019
About the Author
Mark Feinsand is an Executive Reporter for MLB.com. He is the author of The New York Yankees Fans' Bucket List, and he contributed to the Yankees' official 2009 World Series championship commemorative book, Twenty-Seven. Bryan Hoch has covered New York baseball for two decades, working as the Yankees' MLB.com beat reporter since 2007. He is the author of The Baby Bombers: The Inside Story of the Next Yankees Dynasty.

Nick Swisher played for the New York Yankees from 2009 to 2012.
or
Not Currently Available for Direct Purchase