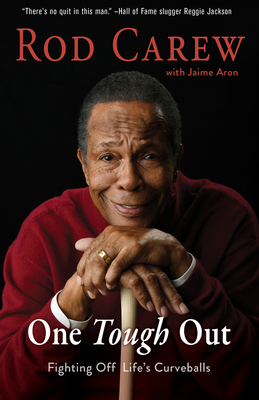 Rod Carew (Hardcover)
One Tough Out: Fighting Off Life's Curveballs
Triumph Books, 9781629377643, 352pp.
Publication Date: May 12, 2020
Other Editions of This Title:
Paperback (5/18/2021)
* Individual store prices may vary.
Description
For 19 seasons, Rod Carew was a maestro in the batter's box. Uncoiling from his crouched stance, he seemed to guide the ball wherever he wanted on the way to a whopping seven batting titles and a spot in the Baseball Hall of Fame. If only everything in life had been as easy as he made hitting look. In One Tough Out: Fighting Off Life's Curveballs, Carew reflects on the highlights, anecdotes, and friendships from his outstanding career, describing the abuse, poverty, and racism he overcame to even reach the majors. In conversational, confessional prose, he takes readers through the challenges he's conquered in the second half of his life, from burying his youngest daughter to surviving several near-fatal bouts with heart disease. He also details the remarkable reason he's alive today: the heart transplant he received from Konrad Reuland, a 29-year-old NFL player he'd met years before. Carew explains how that astonishing connection was revealed and the unique bond he and his wife, Rhonda, have since forged with his donor's family. An important thread running through this mosaic of Carew's life is his faith. He illustrates how his mother instilled those beliefs during their darkest days and how conversations with God helped him fight off every curveball life has thrown his way.
About the Author
Rod Carew is one of the most decorated players in Major League Baseball history. A first-ballot inductee into the Baseball Hall of Fame in 1991, Rod won seven batting titles and was named the 1967 AL Rookie of the Year and the 1977 AL Most Valuable Player en route to 3,053 career hits and 18 All-Star Game selections. He remains on the executive staffs of both the Minnesota Twins and Los Angeles Angels and is a strong supporter of the organizations that have meant so much to him: the American Heart Association, Donate Life, Be The Match, and the Pediatric Cancer Research Foundation. Jaime Aron was Texas Sports Editor for The Associated Press for 13 years and has written six previous books. He is a senior writer for the American Heart Association, living in Dallas with his family.