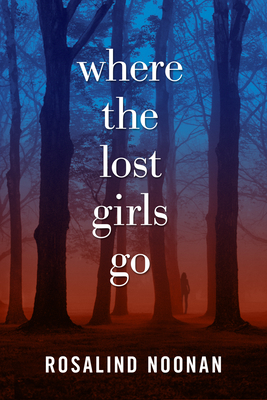 Where the Lost Girls Go (Hardcover)
A Laura Mori Mystery
Crooked Lane Books, 9781629537733, 304pp.
Publication Date: February 7, 2017
Other Editions of This Title:
Paperback (2/7/2017)
Library Binding, Large Print (4/1/2017)
* Individual store prices may vary.
Description
Rookie cop Laura Mori catches her first investigation when the fiery crash of a sports car lights up the night sky. The fire burns the body beyond recognition, but the police are able to identify the car as that of Kent Jameson, celebrity author and benefactor of Sunrise Lake. And Jameson fears that the unidentified body is his seventeen-year-old daughter Lucy, who stormed out of the house that night after an argument.

When lab reports reveal that the body was not Lucy, but a teen runaway named Kyra whose disappearance has been linked with other missing persons—more than half a dozen "lost girls" who disappeared while living on the streets of Portland—the investigation takes a drastic turn. How did Kyra come to land at the Jameson estate in rural Oregon, and what was she doing driving their car? And who cut the brake lines on the vehicle?

Just when Laura is making progress in the case, she comes across a suspicious lane in the forest that uncovers new evidence that will once again alter the course of the investigation and rock Sunrise Lake to its core. R. J. Noonan's electrifying mystery will resonate with fans of Lisa Gardner and Lisa Jackson.
About the Author
Rosalind Noonan is a New York Times bestselling author and a graduate of Wagner College. She lives in the Pacific Northwest, where she writes in the shade of some towering two-hundred-year-old Douglas fir trees. This is her first mystery under the name R. J. Noonan.
Praise For Where the Lost Girls Go: A Laura Mori Mystery…
Praise for Little Darlings:

"Golding's novel will strike true fear into the heart of any parent. At the same time, the novel explores the fierce and desperate love we have for our children, written with beautiful intensity...A gorgeous, creepy, modern fairy tale reminiscent of Angela Carter."
—Kirkus starred review

"A modern story of ghosts and fairy tales...Golding beautifully blends the supernatural with the everyday, keeping readers riveted to the page as they question what is true."
—Booklist starred review

"Sinister and sickeningly real, Little Darlings is fairy tale-inflected horror...that touch[es] on our deepest, most instinctive fears and fairy tales."
—Foreword Reviews starred review

"Haunting . . . Fans of psychological thrillers will look forward to Golding's next novel."
—Publishers Weekly

"It'll make you question whether mother really does know best or if motherhood is truly the dream it's made out to be."
—Fangoria Magazine

"Chilling story, beautiful prose. Little Darlings is stunning."
—Clare Mackintosh, New York Times bestselling author of I Let You Go

"Ingenious, chilling, and completely absorbing, Little Darlings is destined to be the hit of 2019. The scariest book I have read in many years."
—A. J. Banner, bestselling author of The Good Neighbor

"Deep. Dark. Utterly addictive. I read this extraordinary book in one breathless gulp...Be warned—you can't unread this story. It will haunt you."
—Teresa Driscoll, author of I Am Watching You

"I love this book! Compelling from the first page to the very last, Golding took me by the hand and pulled me softly but persistently through mystery and myth...A masterfully-told story and a beautiful and nuanced work of art."
—Susan Crawford, author of The Pocket Wife

"Dark, compelling and terrifyingly relatable, Little Darlings takes every parent's worst fear and deftly twists it into something even more horrific. It will have you checking every shadow for what you hope isn't really there."
—Megan Hart, New York Times bestselling author

"Little Darlings is the perfect marriage of taut psychological thriller and nail-biting horror. A changeling-inspired page-turner of note with a highly satisfying ending, it'll stay with you long after you've read it. I loved it and can't wait to see what Melanie Golding does next."
—Sarah Lotz, author of The White Road

"A twisty, chilling exploration of the dark side of motherhood, brilliantly told by a debut author whose skill is evident from the first page. Any parent—any human, for that matter—will have a hard time putting this book down once they start."
—Brad Parks, international bestselling author of The Last Act

"A story that is in turn enthralling, creepy and downright sinister, Melanie Golding turns fairy tales on their heads in Little Darlings, making this one to watch out for in 2019. A brilliant, heart-pounding read."
—Lisa Hall, author of Between You and Me

"Rich and satisfying, this is part who-done-it, part fairy tale, part psychological thriller...Will continue to rattle you, long after you have put it down."
—Felicity Everett, author of The People at Number 9

"Riveting, terrifying and at times heartbreaking...Melanie Golding's disturbing portrait of a new mother's paranoia is superbly written, cleverly plotted and gruesomely beautiful in an unforgettable way. A stunning debut."
—Annie Ward, author of Beautiful Bad

"Little Darlings is brilliant—beautifully written, disturbing and deliciously creepy."
—Roz Watkins, author of The Devil's Dice

"Dark, richly evocative, tense, and thought-provoking. Taps into every woman's fear that she will not be believed."
—Mel McGrath, author of Give Me the Child

"Viscerally creepy and compelling—a contemporary dark fairy tale that reeled me in like tales of old."
—Angela Clarke, author of Follow Me

"Little Darlings gives a thrill so deep it dips at times into pleasure, at Golding's sheer creativity, at her ability to take our most natural and primal life experience and weave into it our most ancient myths, transforming it into high horror. She keeps the reader spellbound until the very end...The psychological intensity of this novel is on par with the best."
—Katherine Forbes Riley, author of The Bobcat

"A psychological thriller with a suggestion of the supernatural...Golding provides enough reasonable doubt about Lauren's view of events to keep readers guessing."
—Library Journal
or
Not Currently Available for Direct Purchase