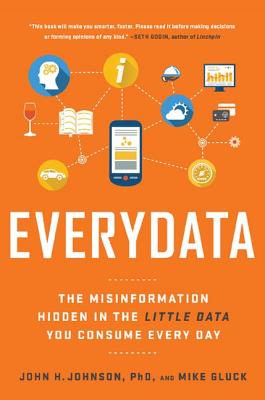 Everydata (Hardcover)
The Misinformation Hidden in the Little Data You Consume Every Day
Routledge, 9781629561011, 224pp.
Publication Date: May 5, 2016
* Individual store prices may vary.
Description
While everyone is talking about "big data," the truth is that understanding the "little data"--the stats that underlie newspaper headlines, stock reports, weather forecasts, and so on--is what helps you make smarter decisions at work, at home, and in every aspect of your life. The average person consumes approximately 30 gigabytes of data every single day, but has no idea how to interpret it correctly. EVERYDATA explains, through the eyes of an expert economist and statistician, how to decipher the small bytes of data we consume in a day. EVERYDATA is filled with countless examples of people misconstruing data--with results that range from merely frustrating to catastrophic: The space shuttle Challenger exploded in part because the engineers were reviewing a limited sample set. Millions of women avoid caffeine during pregnancy because they interpret correlation as causation. Attorneys faced a $1 billion jury verdict because of outlier data. Each chapter highlights one commonly misunderstood data concept, using both realworld and hypothetical examples from a wide range of topics, including business, politics, advertising, law, engineering, retail, parenting, and more. You'll find the answer to the question--"Now what?"--along with concrete ways you can use this information to immediately start making smarter decisions, today and every day.
About the Author
Dr. John H. Johnson, IV is an expert witness who has testified and consulted in cases involving how one uses and interprets data in a wide range of settings. As CEO and co-founder of Edgeworth Economicsa leading consulting firm with offices in Washington, DC, San Francisco, and PasadenaJohn heads a data-driven company that has been featured on NPR, the Washington Post, USA Today, and HuffPost Live. As an economist and statistician, John specializes in teaching people how to be informed data consumers. He has spoken to audiences at the American Bar Association and the Federal Trade Commission, has taught at Georgetown University, and has been published in numerous books, journals, and magazines. His PhD in econometrics is from the Massachusetts Institute of Technology. Co-author Mike Gluck is an award-winning journalist/marketer who has written for leading organizations and newspapers nationwide. He has led the creation of multi-million dollar advertising campaigns, and has worked with Time Warner Cable, Fisher-Price, the Pittsburgh Penguins, and Riverside Health System, among others. As President of Gluckworksa copywriting and marketing firm in Buffalo, NYMike s expertise is making complex topics easy to understand. He graduated from Johns Hopkins University."