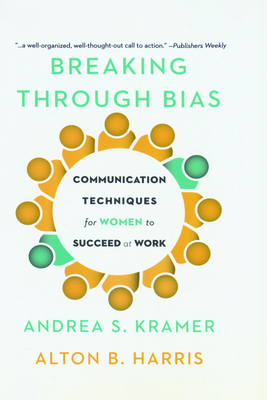 Breaking Through Bias (Hardcover)
Communication Techniques for Women to Succeed at Work
Routledge, 9781629561042, 256pp.
Publication Date: May 17, 2016
Other Editions of This Title:
Paperback (1/7/2020)
* Individual store prices may vary.
Description
More than fifty years after the beginning of the Women's Movement and forty years after passage of Title IX, women are still not "making it" in traditionally male careers. Women start their careers on parity with men but generally end them far earlier, having achieved less status, lower compensation, and less satisfaction than men. Breaking Through Bias explains that it is the stereotypes about women, men, work, leadership, and family that hold women back, and it presents an integrated set of communication techniques that women can use to avoid the discriminatory consequences of these stereotypes. Women define career success in a wide variety of ways. But whatever a woman's personal definition, if she is in a traditionally male-dominated career--virtually all high status, highly compensated fields--her career is at risk because of pervasive gender stereotypes. This highly practical book makes clear that women don't need to change who they are to succeed in their chosen careers, and they certainly don't need to act more like men. Women do, however, need to be attuned to the negative gender stereotypes that surround them; they need to anticipate the biases these stereotypes foster, and they need to manage the impressions they make to avoid or overcome these biases. Based on the authors' personal experiences as business leaders and practicing attorneys, involvement in compensation and hiring decisions, extensive mentoring activities, and numerous scientific and academic studies, Breaking Through Bias presents unique, practical, and effective advice about how women can at last break through gender bias in the workplace and win at the career advancement game.
About the Author
Andrea S. Kramer ("Andie") and Alton B. Harris ("Al") are married and former law partners. They are accomplished experts in their respective fields of law and are adjunct professors at Northwestern University School of Law. Andie and Al have both served in senior management positions and have in-depth experience with all aspects of personnel management including recruiting, hiring and firing, individual and team supervision, compensation, and promotion. For more than 30 years they have worked to promote gender equality in the workplace, mentoring literally thousands of women, and serving as sounding boards for each other's ideas. They have jointly written more than 30 professional and gender related articles and book chapters, collaborated in presenting many workshops, and spoken together to a variety of business groups. Andie and Al live in Chicago. They have a daughter in medical school, three rescue dogs, and four rescue cats.
or
Not Currently Available for Direct Purchase