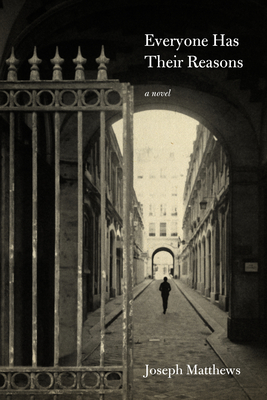 Everyone Has Their Reasons
Hardcover

* Individual store prices may vary.
Description
At a time when the issues of identity, immigration, and class remain both universally important and enormously controversial, this book is an accessible and captivating tale of one boy's historically famous experience in the extraordinary setting of roiling pre-WWII Paris. On November 7, 1938, a small, slight 17-year-old Polish-German Jew named Herschel Grynszpan entered the German embassy in Paris and shot dead a consular official. Three days later, in supposed response, Jews across Germany were beaten, imprisoned, and killed, their homes, shops, and synagogues smashed and burned—Kristallnacht, the Night of Broken Glass. Based on the historical record and told through his "letters" from German prisons, this novel begins in 1936, when 15-year-old Herschel flees Germany, and continues through his show trial, in which the Nazis sought to demonstrate through his actions that Jews had provoked the war. But Herschel throws a last-minute wrench in the plans, bringing the Nazi propaganda machine to a grinding halt and provoking Hitler to postpone the trial and personally give an order regarding Herschel's fate.
Praise For Everyone Has Their Reasons…
"Anne Frank meets Orwell in this tragic, gripping tale of an orphan turned assassin in pre–World War II Paris. Based on the true story of the Jewish teen Hitler blamed for Kristallnachtt, it's a wild ride through the underside of Europe as the storm clouds of the Holocaust gather. Not to be missed!"  —Terry Bisson, Hugo and Nebula Award–winning author, Fire on the Mountain
"Matthews' prose sparkles and his story is one of a kind." —Amos Lassen, reviewsbyamoslassen.com
"Transforming historical figures into fictional characters can be risky business, and San Francisco attorney and author Joseph Matthews embraces the challenge in his well-researched new novel,
Everyone Has Their Reasons
, rendered in the voice of Herschel Grynszpan." —Howard Freedman, jweekly.com
"[Matthews] opens up a world that is largely ignored." —Kevin Winter,
Manhattan Book Review
"Matthews expertly portrays Parisian society in the 1930s, with its socio-economic, religious and ethnic hierarchies exacerbated by the stress of increased migration and war." —Wanda Wyporska,
Historical Novels Review
"Joseph Matthews has created a powerful narrative of a tragically human scenario. It is at turns warm, comedic, compelling, and provocative." —Ron Jacobs, counterpunch.org
"
Everyone Has Their Reasons
enriches our understanding of what it means to live in a complex world where decisions are often made between choices that would have been unacceptable if there were other options." —Rabbi Rachel Esserman, thereportergroup.org
PM Press, 9781629630946, 528pp.
Publication Date: October 1, 2015
About the Author
Joseph Matthews is a former criminal defense lawyer and public defender in San Francisco who engaged in the criminal/political cases of anti–Vietnam War activists, Mission District barrio residents, and prisoners during the California prison rebellions of the 1970s. He taught at the law school of the University of California–Berkeley and is the author of the novel Shades of Resistance, the short story collection The Lawyer Who Blew Up His Desk, and the coauthor of the political analysis Afflicted Powers: Capital and Spectacle in a New Age of War. He lives in San Francisco.