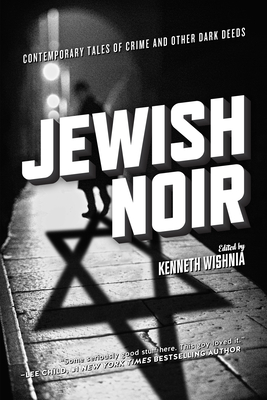 Jewish Noir
Contemporary Tales of Crime and Other Dark Deeds
Paperback

* Individual store prices may vary.
Description
A unique collection of all-new stories by award-winning authors.
 
This anthology includes the work of numerous authors such as Marge Piercy, Harlan Ellison, S. J. Rozan, Nancy Richler, Moe Prager (Reed Farrel Coleman), Wendy Hornsby, Charles Ardai, and Kenneth Wishnia. The stories explore such issues as the Holocaust and its long-term effects on subsequent generations, anti-Semitism in the mid- and late-20th-century United States, and the dark side of the Diaspora (e.g., the decline of revolutionary fervor, the passing of generations, the Golden Ghetto, etc.). The stories in this collection include "Trajectories," Marge Piercy's story of the divergent paths taken by two young men from the slums of Cleveland and Detroit in a rapidly changing post–WW II society; "Some You Lose," Nancy Richler's empathetic exploration of the emotional and psychological challenges of trying to sum up a man's life in a eulogy; and "Yahrzeit Candle," Stephen Jay Schwartz's take on the subtle horrors of the inevitable passing of time. These works include many "teachable moments" about the history of prejudice, the contradictions of ethnic identity, and assimilation into American society and culture.
Praise For Jewish Noir: Contemporary Tales of Crime and Other Dark Deeds…
"Wishnia's works are addictive, thought provoking page-turners."  —Impulsive Reviews

"Stirring. Evocative. Penetrating."  —Elie Wiesel on contributor Stephen Jay Schwartz's "Yahrzeit Candle"

"Wishnia presents the world of Ashkenazi Jewry with a keen eye for detail. Wishnia never judges his characters, but creates three-dimensional people who live in a very dangerous world."  —Jewish Press on The Fifth Servant

"The stories exemplify the editor's claim that 'practically anything' can be Jewish noir." —Publishers Weekly

"Editor Wishnia offers readers a first-rate collection of short stories dealing with traditional noir subject matter and tone but offering Jewish variations on the theme." —Barbara Bibel, Booklist

"This is a very desirable book for the lover of noir in all its fascinating varieties." —Miriam Bradman Abrahams, jewishbookcouncil.org

"The characters are tough Jewish cops and gangsters, stereotypically predatory Jewish businessmen, the corrupt, the obsessed, the downtrodden, the tarnished heroines and the anti-heroes." —Lyn Davidson, jweekly.com

"For fans of classic hard boiled crime novels, Jewish Noir is well worth to be put on your bookshelf." —San Diego Book Review

"Every reader will have his or her favorites, but this anthology is heartrending and spine-chilling in its entirety." —Andrea Kempf, Library Journal

"The table of contents of Jewish Noir is star-studded, to say the least . . . this is an excellent anthology." —Bill Crider, Mystery Scene
PM Press, 9781629631110, 448pp.
Publication Date: November 1, 2015
About the Author
Kenneth Wishnia is an associate professor of English at Suffolk Community College and the author of the Filomena Buscarsela Mystery series—the first of which was nominated for both the Edgar and the Anthony Awards, and made the Booklist "Best First Mystery" list—and The Fifth Servant. He lives on Long Island.