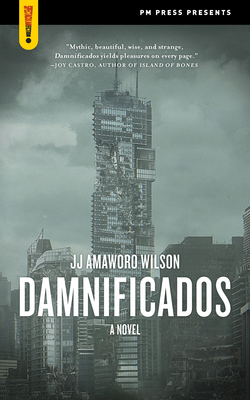 Damnificados
A Novel (Spectacular Fiction)
Paperback

* Individual store prices may vary.
Description
Winner:
2016 New Mexico-Arizona Book Award, Fiction
2016 Foreword INDIES Book of the Year, Multicultural Fiction
2017 Independent Publisher Book Award, Gold, Multicultural Fiction

Nominee:
2017 Hurston/Wright Legacy Award, Debut Fiction


Uses magical realism, revolutionary politics, and romantic adventure to bring to life a colorful community of squatters in an imaginary Latin American city
 
Damnificados is loosely based on the real-life occupation of a half-completed skyscraper in Caracas, Venezuela, the Tower of David. In this fictional version, 600 "damnificados"—vagabonds and misfits—take over an abandoned urban tower and set up a community complete with schools, stores, beauty salons, bakeries, and a rag-tag defensive militia. Their always heroic (and often hilarious) struggle for survival and dignity pits them against corrupt police, the brutal military, and the tyrannical "owners." Taking place in an unnamed country at an unspecified time, the novel has elements of magical realism: avenging wolves, biblical floods, massacres involving multilingual ghosts, arrow showers falling to the tune of Beethoven's Ninth, and a trash truck acting as a Trojan horse.
Praise For Damnificados: A Novel (Spectacular Fiction)…
"Should be read by every politician and rich bastard and then force-fed to them—literally, page by page."  —Jimmy Santiago Baca, author, A Place to Stand

"Extraordinary ... Damnificados disorients the reader by invoking biblical, mythological, epic and real-life tales in a style that is immediately gripping ... [T]here are so many genres to which JJ Amaworo Wilson gives new life in what reads like an homage to the outsiders of all places and periods ... wonderful and magical." —Gladys Marivat, Le Monde

"Two-headed beasts, biblical floods, dragonflies to the rescue—magical realism threads through this authentic and compelling struggle of men and women—the damnificados—to make a home for themselves against all odds. Into this modern, urban, politically-familiar landscape of the 'have-nots' versus the 'haves,' Amaworo Wilson introduces archetypes of hope and redemption that are also deeply familiar—true love, vision quests, the hero's journey, even the remote possibility of a happy ending. These characters, this place, this dream will stay with you long after you've put this book down."  —Sharman Apt Russell, author, Hunger

"Only a rare and special talent can take contemporary realities—sad, joyful, infuriating, inspiring—and spin them into legend. In a narrative rich in danger, adventure, humor, romance, and risk, JJ Amaworo Wilson raises essential questions without succumbing to earnestness or didacticism."  —Diane Lefer, author, Confessions of a Carnivore

"Turning contemporary realities to legend takes a talent as rare and special as JJ Amaworo Wilson's. Through his narrative rich in danger, adventure, humor, romance, and risk, he can raise essential questions without succumbing to earnestness or didacticism." —Diane Lefer, LA Progressive

"A community of indigents attempting to settle in an unfinished skyscraper lock horns with the wealthy and powerful in this willfully strange debut novel." —Dotun Akintoye, O, The Oprah Magazine

"Wilson's debut novel of magic realism is a modern retelling of the classic hero's journey, complete with a two-headed beast, a flood of biblical proportion, miraculous healing, and deus ex machina. The author's elegant language makes even the darkest of situations beautiful." —Portia Kapraun, Library Journal

"Mr. Wilson, whose influences run from sci-fi to Steinbeck, tells his underdog story with lusty energy, filling it with all manner of portents and miracles, 'like something out of the Bible,' as one onlooker exclaims." —Wall Street Journal

"A gritty, urban, heroic, magically-realistic tale of revolution . . . this one leapt out at me immediately." —Susie Rodarme, Book Riot

"Wilson's skills as a novelist are impressive, and his scope in Damnificados is global: his vision of a Latin American city that casually and fleetingly connects to Africa and Japan makes this novel a world myth with a mildly fantastical dystopian setting." —Kate Macdonald, katemacdonald.net

"Thoughtful and intense, but with a core of humility and self-awareness, Damnificados is an extraordinary, magical, inspiring tale of community and conscience." —Pallas Gates McCorquodale, Foreword Reviews
PM Press, 9781629631172, 272pp.
Publication Date: January 1, 2016
About the Author
JJ Amaworo Wilson is a prize-winning author of more than 20 books about language and language learning. His short fiction has been published by Penguin, Johns Hopkins University Press, and myriad literary magazines in England and the United States. He lives in Silver City, New Mexico.