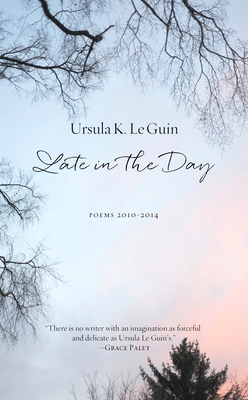 Late in the Day (Hardcover)
Poems 2010–2014
PM Press, 9781629631226, 112pp.
Publication Date: December 18, 2015
* Individual store prices may vary.
Description
"There is no writer with an imagination as forceful and delicate as Ursula K. Le Guin's."  —Grace Paley
 
Late in the Day, Ursula K. Le Guin's new collection of poems (2010–2014) seeks meaning in an ever-connected world. In part evocative of Neruda's Odes to Common Things and Mary Oliver's poetic guides to the natural world, Le Guin's latest give voice to objects that may not speak a human language but communicate with us nevertheless through and about the seasonal rhythms of the earth, the minute and the vast, the ordinary and the mythological. As Le Guin herself states, "science explicates, poetry implicates." Accordingly, this immersive, tender collection implicates us (in the best sense) in a subjectivity of everyday objects and occurrences. Deceptively simple in form, the poems stand as an invitation both to dive deep and to step outside of ourselves and our common narratives. The poems are bookended with two short essays, "Deep in Admiration" and "Some Thoughts on Form, Free Form, Free Verse."
About the Author
Ursula K. Le Guin is a mentor to two generations of radical feminist and progressive writers. Her novels and stories have won every major science fiction and fantasy award as well as the Pen/Malamud and the National Book Award. Her works include The Dispossessed, The Left Hand of Darkness, and A Wizard of Earthsea. In 2014, she was awarded the Medal for Distinguished Contribution to American Letters by the National Book Foundation, a lifetime achievement award. She lives in Portland, Oregon.
Praise For Late in the Day: Poems 2010–2014…
"A life-long observer of humanity and nature, who has borne critical witness to over eighty years of the modern age."  —Jillian Saucier, Rattle
"She never loses touch with her reverence for the immense what is."  —Margaret Atwood
"Le Guin's down-to-earth, intensely personal voice is unmistakable."  —Los Angeles Times
"LeGuin writes about nature and quotidian happenings, but she weaves magic in. Get excited. Be moved. Go Ursula." —Michelle Anne Schingler, bookriot.com
"Late in the Day intertwines our human stories with those of gnats and fireflies and stars and distant galaxies, in the hope that readers will look up, look out and see the world before, for them, it's gone." —Lizzy Acker, Willamette Week
"Late in the Day is a fitting capstone to Ursula K. Le Guin's long career. The poems, with their diverse topics and varied forms, show versatility and compassion." —George Longenecker, Rain Taxi