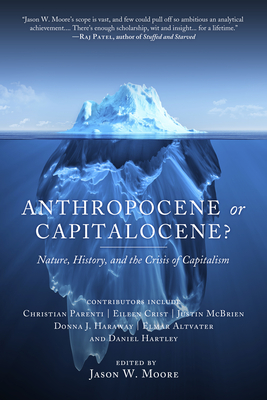 Anthropocene or Capitalocene? (Paperback)
Nature, History, and the Crisis of Capitalism (KAIROS)
PM Press, 9781629631486, 240pp.
Publication Date: June 1, 2016
* Individual store prices may vary.
Description
The Earth has reached a tipping point. Runaway climate change, the sixth great extinction of planetary life, the acidification of the oceans—all point toward an era of unprecedented turbulence in humanity's relationship within the web of life. But just what is that relationship, and how do we make sense of this extraordinary transition? Anthropocene or Capitalocene? offers answers to these questions from a dynamic group of leading critical scholars who challenge the conventional practice of dividing historical change and contemporary reality into "Nature" and "Society," demonstrating the possibilities offered by a more nuanced and connective view of human environment-making, joined at every step with and within the biosphere. In distinct registers, the authors frame their discussions within a politics of hope that signal the possibilities for transcending capitalism, broadly understood as a "world-ecology" that joins nature, capital, and power as a historically evolving whole.
About the Author
Jason W. Moore is the author of Capitalism in the Web of Life: Ecology and the Accumulation of Capital. Elmar Altvater is the author of The Future of the Market: An Essay on the Regulation of Money and Nature after the Collapse of 'Actually Existing Socialism.' Eileen C. Crist is the author of Images of Animals: Anthropomorphism and Animal Mind. Daniel Hartley is the author of The Politics of Style: Marxist Poetics in and beyond Raymond Williams, Terry Eagleton and Fredric Jameson. Christian Parenti is the author of Tropic of Chaos: Climate Change and the New Geography of Violence.
Praise For Anthropocene or Capitalocene?: Nature, History, and the Crisis of Capitalism (KAIROS)…
"We had best start thinking in revolutionary terms about the forces turning the world upside down if we are to put brakes on the madness. A good place to begin is this book, whose remarkable authors bring together history and theory, politics and ecology, economy and culture, to force a deep look at the origins of global transformation." —Richard Walker, professor emeritus of geography, UC Berkeley, and author of
The Capitalist Imperative
,
The New Social Economy
,
The Conquest of Bread
, and
The Country in the City
"We live in the Capitalocene, the contributors to this volume argue, and the urgent, frightening and hopeful consequences of this reality-check become apparent in chapters that force the reader to think. In a time when there is generally no time or space to think . . . we need a book like this more than ever." —Bram Büscher, professor of sociology, Wageningen University, and author of Transforming the Frontier: Peace Parks and the Politics of Neoliberal Conservation in Southern Africa
"In this pioneering volume, leading critics call for a different conceptual framework, which places global change in a new, ecologically-oriented, history of capitalism—the Capitalocene. No scholar or activist interested in the debate about the Anthropocene will want to miss this volume." —Fredrik Albritton Jonsson, associate professor of history, University of Chicago, and author of Enlightenment's Frontier: The Scottish Highlands and the Origins of Environmentalism
"Jason W. Moore's radical and rigorous work is, and richly deserves to be, agenda-setting." —China Miéville, author of The City & the City
"Jason W. Moore's scope is vast, and few could pull off so ambitious an analytical achievement. . . . There's enough scholarship, wit and insight . . . for a lifetime." —Raj Patel, author of Stuffed and Starved and The Value of Nothing
"The essays in Anthropocene or Capitalocene? Provide an invaluable contribution to the debate over what we should call this strange new epoch, wrought by centuries of capitalist depredations upon our biosphere. As these ecosocialists so ably tell us, from their individual perspectives, that humanity's best hope to save the planet (and its species, including our own) relies on finding ways to replace an unsustainable Capitalocene with socialist relations of production and consumption." —Steve Knight, marxandphilosophy.org.uk