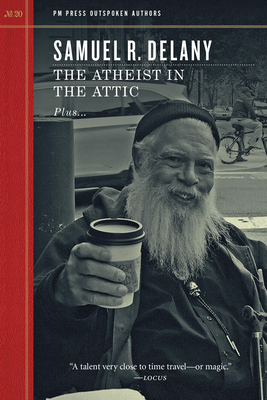 The Atheist in the Attic (Outspoken Authors) (Paperback)
PM Press, 9781629634401, 128pp.
Publication Date: April 1, 2018
* Individual store prices may vary.
Description
Appearing in book form for the first time, The Atheist in the Attic is a suspenseful and vivid historical narrative, recreating the top-secret meeting between the mathematical genius Leibniz and the philosopher Spinoza caught between the horrors of the cannibalistic Dutch Rampjaar and the brilliant "big bang" of the Enlightenment. Also Delany's "Racism and Science Fiction" combines scholarly research and personal experience in the unique true story of the first major African-American author in the genre. This collection features a bibliography, an author biography, and the candid and uncompromising Outspoken Interview.
About the Author
Samuel R. Delany changed the tone, the content, and the very shape of modern science fiction with his acclaimed novels and stories that bridged the apparent gap between science and fantasy to explore gay sexuality, racial and class consciousness, and the limits of imagination and memory. His vast body of work includes memoir, comics, space adventure, mainstream novels, homosexual erotica, and literary criticism of a high order.
Praise For The Atheist in the Attic (Outspoken Authors)…
"A talent very close to time travel—or magic." —Locus 
"The most remarkable prose stylist to have emerged from the culture of American science fiction." —William Gibson
"I consider Delany not only one of the most important science fiction writers of the present generation, but a fascinating writer in general who has invented a new style." —Umberto Eco
"Clocking-in at seventy-two pages, The Atheist in the Attic centres on the famous November 1676 meeting between the philosophers Leibniz and Spinoza (the latter the atheist of the title) in The Hague, recounted here in the form of an (imaginary) written account by Leibniz. This is a strange but compelling work in which Delany foregrounds the social context of the pair's meeting: the Dutch Republic's so-called rampjaar ('disaster year') of 1672, in which England and France both invaded and a mob killed and mutilated two of the country's most important political figures." —Gabriel Carlyle, Peace News (UK)
"This small volume offers two delectable ruminations (plus an interview) by Delany (Through the Valley of the Nest of Spiders) on the nature of God and the insidiousness of racism... this remarkable melange will be enlightening for readers to follow along with him." —www.publishersweekly.com/
"Grand Master of SF Samuel R. Delaney gives us an absolutely fascinating and downright frightening recollection of the terrible past, violent reminders of racism and how he was much a victim himself of racial violence." —Andrew Andrews, www.truereviewonline.com