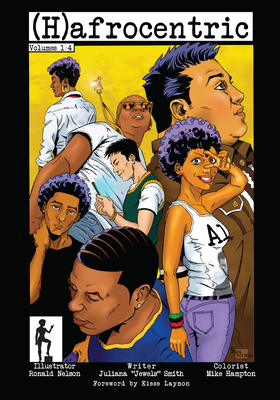 (H)afrocentric Comics (Paperback)
Volumes 1–4
PM Press, 9781629634487, 136pp.
Publication Date: September 1, 2017
* Individual store prices may vary.
Description
This unflinching visual and literary tour-de-force tackles the most pressing issues of the day—including racism, patriarchy, gentrification, police violence, and the housing crisis—with humor and biting satire. When gentrification strikes the neighborhood surrounding Ronald Reagan University, Naima Pepper recruits a group of disgruntled undergrads of color to launch the first and only anti-gentrification social networking site, mydiaspora.com. The motley crew is poised to fight back against expensive avocado toast, muted Prius cars, exorbitant rent, and cultural appropriation. Whether Naima and the gang are transforming social media, leading protests, fighting rent hikes, or working as "Racial Translators," the students at Ronald Reagan University combine their technically savvy and Black Millennial sensibilities with their individual backgrounds, goals, and aspirations.
About the Author
Juliana "Jewels" Smith is a writer, educator, and speaker. She is a Glyph Award winner and the honoree of the first annual Excellence in Comics and Graphic Novels Award from the African American Library and Museum at Oakland. Mike Hampton has been a self-published comic book artist and writer for more than 15 years. Ronald Nelson, who specializes in portrait drawing and sequential art, studied at School of Visual Arts, the Art Students League, and Cooper Union. Kiese Laymon is an award-winning black southern writer, the author of Long Division and How to Slowly Kill Yourself and Others in America.
Praise For (H)afrocentric Comics: Volumes 1–4…
"Smith's comics ooze with originality." —Afro Punk
"(H)afrocentric is a book that is incredibly contemporary and fits the progressive minds of today's readers. It tackles issues of intersectionality and gentrification in ways that are not only informative but also entertaining. It's unlike any comic book I've ever read." —Jamie Broadnax, founder and managing editor, Blackgirlnerds.com
"(H)afrocentric is fully dope, artistic, brilliantly drawn, styled, and wonderfully radical with an awesomely fiery heroine! Juliana Smith and her team are to be commended for this desperately needed political and cultural contribution. Get into it and grab your soapboxes!" —Jared A. Ball, author, I Mix What I Like! A Mixtape Manifesto
"The novel hosts a multicultural cast of college students who engage politically, blending satire and history for a recipe of topics millennials don't shy from. Readers will be smitten with Naima, and they will hope for more of her. (Starred Review)" —Kirkus Reviews
"Readers will be smitten with Naima, and they will hope for more of her." —Kirkus Reviews
"Alongside nicely detailed illustrations by Ronald Nelson, Smith sets up promise for a deeper picture of an ultimately new type of comic." —Brandon Yu, San Francisco Chronicle
"Rebels, phonies, fringemongers, and the simply clueless take wry hits in Smith's insightful series. Culture watchers, teen through adult, will find their presumptions challenged as well as much to recognize in themselves." —Martha Cornog, Library Journal
"There's a charming spirit and guiding intelligence at work, with messages for readers of all identities to chew on." —publishersweekly.com
"But there is something else here, rooted (in my view) in the existing limitations of the indie comic world. Diverse in almost every sense, often politically radical, and very d.i.y. in both production and distribution, it has been blessed with too few artists of color, and too few probings into the world of black youth today. With admirable exceptions, it has not much treated the legacy of the great past movements that reshaped African American life, and the victories denied by repression and the steady advance of neoliberalism. (H)afrocentric would be remarkable if only for its subtle take on these legacies and how they are perceived, ignored or understood, refigured or recycled by the following generations, marked indeed by mixed-race youngsters, the source of the "H" in the comic's title." —Paul Buhle, Socialism & Democracy