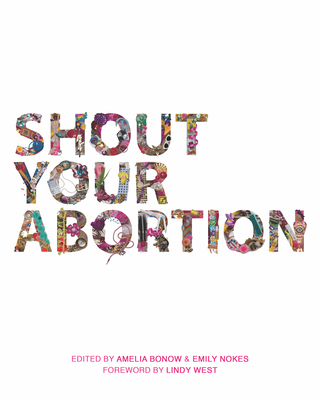 Shout Your Abortion (Paperback)
PM Press, 9781629635736, 256pp.
Publication Date: November 1, 2018
* Individual store prices may vary.
Description
Following the U.S. Congress's attempts to defund Planned Parenthood, the hashtag #ShoutYourAbortion became a viral conduit for abortion storytelling, receiving extensive media coverage and positioning real human experiences at the center of America's abortion debate for the first time. This online momentum quickly launched a grassroots movement, inspiring countless individuals to share their stories in art, media, and community events. Shout Your Abortion is a collection of photos, essays, and creative work inspired by the movement of the same name, a template for building new communities of healing, and a call to action. This book sheds light on the individuals who breathed life into this movement, illustrating the profound political power of defying shame and claiming sole authorship of our experiences.
About the Author
Amelia Bonow has developed Shout Your Abortion (SYA) into a nationwide movement to create places for people to discuss their abortions online, in art and media, and in public events. Bonow's writing has appeared in BUST, the Huffington Post, the New York Daily News, Salon, and the Stranger. Emily Nokes is a musician, writer, graphic designer, and illustrator. Her work has appeared in the Stranger and she now serves as the music editor at BUST . Lindy West is a contributing opinion writer for the New York Times. Her work has also appeared in This American Life, the Guardian, Cosmopolitan, and elsewhere. She cofounded #ShoutYourAbortion and authored Shrill: Notes from a Loud Woman.
Praise For Shout Your Abortion…
"
Shout Your Abortion
reflects what makes me most hopeful for this next century, that there's a whole new generation of young people who refuse to be judged and shamed about who they are, whether it's their gender identity, their sexual orientation, or what they do with their body." —Cecile Richards, president of Planned Parenthood Federation of America
"Regardless of your comfort level with the conversation, you can start by picking up this book and reading people's abortion stories—which might not be a thing that you've ever done before, and I think might be a thing that most of us haven't done before, because most of us haven't really had a culture that talks about abortion... I think that there's something that works well about presenting a whole bunch of different people doing a whole bunch of different things and trusting that the reader will be able to find something in this sea of documentation of individuals that resonates with them. And so I think we wanted the book to feel the same way, and really represent the vast and amorphous nature of this movement, and what it's been in the last few years. Which is just this really free-form idea that people can talk about their abortions however they want, and that that looks all sorts of different ways depending on who you are, where you live, what your community is like, and how you feel about." —Zosha Millman, 
https://www.seattlepi.com/seattlenews/article/Shout-Your-Abortion-Amelia-Bonow-book-interview-13356041.php#item-85307-tbla-5
Lindy West is going to be on
The Daily Show
, with Trevor Noah to promote the new book:
Shout Your Abortion
. She is a contributing opinion writer for the
New York Times
. Her work has also appeared in
This American Life, the Guardian, Cosmopolitan, GQ, Vulture, Jezebel, the Stranger
, and others. She is the founder of "I Believe You, It's Not Your Fault," an advice blog for teens, cofounder of #ShoutYourAbortion, and author of
Shrill: Notes from a Loud Woman
.
"By presenting a collection of nuanced narratives,
Shout Your Abortion
aims to advance a message of broader acceptance: If your abortion experience was hard and sad, that's okay. If your abortion experience wasn't hard or sad, that's also okay. This marks a significant tonal shift in the cultural conversation about abortion." —Catlin Gibson,
Washington Post
"
Shout Your Abortion
is an international movement, but it was created right here in Seattle, and most of its organizing work is still done here. I've encountered men and women—older, mostly, but not always—who think the name itself is too loud. They bristle at the word 'shout' in conjunction with the word 'abortion.' They think it's too un-reverential, that it's too, well, loud. 'We are conditioned to speak about abortion with reverence and a bit of melancholy, if we speak about it at all,' Lindy West writes in the introduction to the new
Shout Your Abortion
anthology. She continues, 'But feeling relieved after my abortion didn't make me part of some radical vanguard, it made me utterly mundane.' In a foreword to the book, Amelia Bonow, the founder and chair of SYA, says that she wrote about her abortion in a public Facebook post in the hopes of launching a conversation from a 'constructive place of discomfort.' That post, with the help of West and dozens of other Seattle women, eventually became the SYA organization. And now, there's a book." —
Seattle Review of Books
"
Shout Your Abortion
includes 40-plus first-person essays by people recounting their abortion experiences in addition to a handful of comics and photographs speaking to the same. In addition to essays and artwork,
Shout Your Abortion
offers interviews with abortion providers as well as additional resources on reproductive care. The diversity of perspectives and mediums adds an additional layer to the confessional, consciousness-raising narrative of the 1960s and 70s." —Kaylen Ralph, 
https://lithub.com/in-the-long-fight-for-reproductive-justice-storytelling-is-a-weapon/
"
Shout Your Abortion
has altered the landscape. We all knew that abortion stigma was a central tool in keeping women silent and isolated. Amelia Bonow busted down that door and women poured through it like a dam had burst." —Martha Plimpton, actor and co-founder of A is For
"The least remarkable thing about the book is that everyone who penned a page in it either had or performed abortions. The stunning takeaway is how easy it is for someone else to change the entire course of a woman's life—and that's absent of laws forbidding abortion. So yes, by all means, please continue talking about abortions. But lets also keep talking about some of the realities that create women who find themselves unintentionally pregnant and unable or unwilling to raise a (or another) child." —Cathy Salustri, 
https://www.cltampa.com/arts-entertainment/words/article/21034058/shout-your-abortion-book-review
"Zora Neale Hurston said that if you are silent about your pain, people will kill you and say that you enjoyed it.
Shout Your Abortion
is reducing pain by helping all to reject stigmatizing abortion silence. That too is life's work." —Dr. Willie Parker, author of
Life's Work: A Moral Argument for Choice
There are things we're socialized not to talk about. That means there are stories we never get to hear. The authors of the new book
Shout Your Abortion
want to change that. The book is the outgrowth of a movement founded by Amelia Bonow, who served as editor. One of the authors featured, Alana Edmonson, joined Amelia in studio for a conversation about the taboo they hope to end. —Radio interview,
The Record
, KUOW
https://www.kuow.org/stories/when-temperatures-drop-what-happens-if-you-can-t-go-indoors
When Planned Parenthood came under attack in 2014 for providing abortions, plenty of people came to the organization's defense by pointing out the wide range of healthcare offered by its clinics. But at that same time, Seattleite Amelia Bonow says she wasn't hearing anyone defending the organization because it offered abortions. So Bonow made a Facebook post that went viral, courtesy of a hashtag added by Lindy West: #ShoutYourAbortion. —Radio interview,
The Record
, KUOW 
https://www.kuow.org/stories/these-women-were-told-not-to-talk-about-abortion-so-instead-they-re-shouting
"It's been so inspiring for me to see a woman making that stand, building the movement, bringing our stories forward… because really, this is what it's going to take. It's going to take all of us. And we will take the political revolution, with #ShoutYourAbortion and everything else we're trying to do, to the U.S. Congress. All of us together." —Pramila Jayapal, U.S. Representative for Washington's 7th District

"How 'Shout Your Abortion' grew from a Seattle hashtag into a book Amelia Bonow was recently in Seattle to talk about the book, Shout Your Abortion. Bonow and the Shout Your Abortion (SYA) movement have put a value on talking about a procedure that, for a long time, has been unnecessarily taboo. The goal is to help people understand that abortion is an experience shared by people of all ages, races, religions, incomes, genders and backgrounds. In fact, one in four women—or 23.7 percent—will have an abortion by age 45. And an NBC News-Wall Street Journal poll conducted in July found that 71 percent of Americans support Roe v. Wade, the 1973 Supreme Court decision that made abortion legal, and safe. That's a record high.

The "Shout Your Abortion" book—released last month and launched with events at the Neptune, Elliott Bay Book Company and beyond—taps into all of that, with stories of nearly 100 people ranging in age from 19 to 85. Two had abortions before it was legal, and one had hers in Mexico two years ago because she lives in a part of the country where abortions weren't easily accessible. In the three years since it started, the Shout Your Abortion movement has turned women's experiences into political firepower." —Seattle Times
"After SYA launched,
The New Yorker
wrote a mostly positive piece that included this line: 'For some observers, the tweets, videos, and even the conversations between Bonow and her friends might suggest a certain amount of privilege.' The piece noted that Bonow lives 'in a city where access to abortion is plentiful and where most of the population shares their political views about it.' The book responds to this early skepticism by showcasing people across the U.S. from many backgrounds. They're old, young, middle-aged, married and unmarried, with and without children, transgender, and non-binary. Some are celebrities. While each one of their stories is unique, none of them are sorry. That is, perhaps, the binding theme throughout this collection. Medical care providers echo this sentiment in the book too, detailing their commitment to providing safe, legal abortions. We spoke with Bonow to learn about the unapologetic stories and abortion art in the book, and to discuss the new wave of abortion stories being told online right now." —Interview, 
https://www.kuow.org/stories/shout-your-abortion
"The book
Shout Your Abortion
, spawn of the #ShoutYourAbortion social media hashtag made popular by Lindy West and Amelia Bonow, was published in early November. Bonow edited the PM Press anthology along with writer-musician Emily Nokes, and its pages are filled with essays, interviews, photos, and other art inspired by the movement. Two weeks after the book's release, the Ohio House of Representatives passed an uber-restrictive "fetal heartbeat" bill banning abortions as early as six weeks into a pregnancy. (I had my abortion at seven and a half weeks—postponed because Minnesota's mandatory 24-hour waiting period put me too close to a work trip.) As the squeeze of anti-abortion legislation tightens, the urge to shout my abortion bubbles up inside of me." —
https://hellogiggles.com/lifestyle/health-fitness/shout-my-abortion-before-too-late/
"The book responds to this early skepticism by showcasing people across the U.S. from many backgrounds. They're old, young, middle-aged, married and unmarried, with and without children, transgender, and non-binary. Some are celebrities. While each one of their stories is unique, none of them are sorry. That is, perhaps, the binding theme throughout this collection. Medical care providers echo this sentiment in the book too, detailing their commitment to providing safe, legal abortions. We spoke with Bonow to learn about the unapologetic stories and abortion art in the book, and to discuss the new wave of abortion stories being told online right now." —Online interview, 
https://www.kuow.org/stories/shout-your-abortion
Our Alicia Menendez talks to Lindy West about her campaign #ShoutYourAbortion. —
Amanpour
, CNN International, 
https://player.fm/series/series-1784173/amanpour-anand-giridharadas-mads-mikkelsen-and-lindy-west
"For decades, taking down Planned Parenthood has been a pet project of America's anti-choice legislators. In 2015, after Congressional Republicans failed in their attempt to defund the nation's largest women's-healthcare provider, Seattle activist Amelia Bonow posted on Facebook that she wanted to hear women refuse to be ashamed of their abortions. Less than two weeks later, Bonow's friend Lindy West created the Twitter hashtag #ShoutYourAbortion, and within days more than 150,000 tweets used the hashtag just as Bonow had hoped. Three years later, as the Trump administration sets its sights on repealing Roe v. Wade, talking about abortion without shame is more vital than ever, and
Shout Your Abortion
, a collection of 43 personal accounts curated by Bonow, feels timely and crucial. —
Bitch Magazine
"The new book is poised to be a vital tool for person-to-person connection and part of the broader work for culture-wide change." —Katie Klabusich, 
Rewire
'Fuck your wall' and 'abortion is freedom' signs projected onto Trump tower Pro-choice campaigners
Shout Your Abortion
make the visual statement during the Women's March —
http://www.dazeddigital.com/politics/article/42990/1/fuck-your-wall-abortion-is-freedom-signs-projected-trump-tower-womens-march
Shout Your Abortion
Projects 'Abortion Is Freedom' and 'Fuck Your Wall' Onto Trump Tower —
https://jezebel.com/shout-your-abortion-projects-abortion-is-freedom-and-fu-1831909674
"After Congress tried to defund Planned Parenthood, women began sharing personal stories on social media with the #ShoutYourAbortion hashtag. Now, the movement has become a collection of photos, essays, and other creative work. Because reminder: abortion is a normal part of women's reproductive health." —
https://hellogiggles.com/reviews-coverage/feminist-books-gifts-2018/
Lindy West tells Trevor Noah #ShoutYourAbortion takes back the issue from a "tiny fringe." Author, activist, and person perennially taking no shit, Lindy West appeared on the
Daily Show
to explain the title of her new book,
Shout Your Abortion
. —
http://www.cc.com/video-clips/voukrg/the-daily-show-with-trevor-noah-lindy-west---counteracting-dangerous-myths-with--shout-your-abortion----extended-interview
Radio feature —"The Record," with Bill Radke, KUOW, 
https://www.kuow.org/stories/these-women-were-told-not-to-talk-about-abortion-so-instead-they-re-shouting
Author talks to kids about abortion. The video has over 1 million views, between facebook and YouTube. Youtube link:
https://www.youtube.com/watch?v=ZXKclYbp8gA
 facebook link: 
https://www.facebook.com/KidsMeet/videos/348359699281510/
On the 47th Anniversary of Roe v. Wade we speak with Amelia Bonow, co-founder of Shout Your Abortion —The Michael Slate Show, KPFK radio