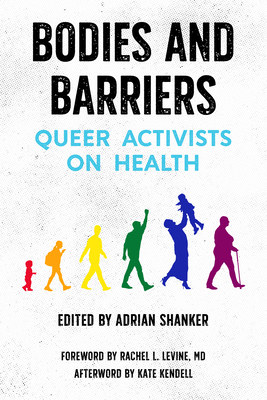 Bodies and Barriers (Paperback)
Queer Activists on Health
PM Press, 9781629637846, 240pp.
Publication Date: March 1, 2020
* Individual store prices may vary.
Description
LGBT people pervasively experience health disparities, yet many are still grappling to understand the health care challenges leaving LGBT people to experience worsened health outcomes. Bodies and Barriers informs health care professionals, students in health professions, policymakers, and fellow activists about these challenges, providing insights and a road map for action that could improve queer health. Through artfully articulated, data-informed essays by twenty-six well-known and emerging queer activists, Bodies and Barriers illuminates the ubiquitous health challenges LGBT people experience and challenges conventional wisdom about health care delivery. It probes deeply into the roots of these disparities and empowers activists with crucial information to fight for health equity through clinical, behavioral, and policy changes. The activist contributors in Bodies and Barriers look for tangible improvements, drawing lessons from the history of HIV/AIDS in America and from struggles against health care bias and discrimination.
About the Author
Adrian Shanker is an award-winning activist and organizer whose career has centered on the LGBT community. Rachel L. Levine, MD, is the secretary of health for the Commonwealth of Pennsylvania and Professor of Pediatrics and Psychiatry at the Penn State College of Medicine. Kate Kendell led the National Center for Lesbian Rights for twenty-two years.
Praise For Bodies and Barriers: Queer Activists on Health…
"[A] road map for all who are ready to fight for health equity—in the doctor's office, in the halls of government, or in the streets." —Rea Carey,executive director National LGBTQ Task Force
"Now, more than ever, we need Bodies and Barriers to shine a spotlight on how and why good healthcare for LGBTQ people and our families is such a challenge. Bodies and Barriers provides a road map for all who are ready to fight for health equity—in the doctor's office, in the halls of government, or in the streets." —Rea Carey, executive director National LGBTQ Task Force
 
"Bodies and Barriers helps LGBT community members understand the way people in the U.S. health services market erect barriers to anyone who is not the source of easy and immediate profit, and helps us all confront and break down these barriers. It helps families of LGBT people understand these obstacles and options for getting around them. And it helps health professionals hear the voices of all their patients, so that we learn to listen, and learn how to care for everyone." —Michael Fine, MD, former director, Rhode Island Department of Health, author of Health Care Revolt: How to Organize, Build a Health Care System, and Resuscitate Democracy All at the Same Time
h Professionals Advancing LGBTQ Equality
"Adrian Shanker and the contributing authors highlight the need for clinicians to up their game when it comes to caring for sexual and gender minority people in their practices. Bodies and Barriers serves as a guide with concrete suggestions for developing knowledge, awareness, and skills to provide holistic care for LGBT people from the cradle to the grave. This book is a gem in that it centers LGBT people's voices telling providers exactly how they want to be treated. It's time providers listen to and act on these recommendations." —Jonathan Mathias Lassiter, PhD; coeditor of Black LGBT Health in the United States: The Intersection of Race, Gender, and Sexual Orientation
"Bodies and Barriers is truly a must-read for anyone working in medical care, social services, or public health. This book brings us closer to the goal of patient-centered care, not only for LGBT communities, but for everyone." —Kristen Emory, PhD; director and advisor, Undergraduate Program at San Diego State University School of Public Health
​"These patient and caregiver experiences ring so loudly in today's environment, when we have compelling evidence of a need for widespread practice change, yet the medical establishment remains slow to respond to the calls from those patients and their caregivers who are asking so boldly—and rightfully—for those changes. Bodies and Barriers is a call to action for learners at all levels, in all health fields, to start now, creating a future where health equity is the norm, and no one is denied the opportunity to thrive." —Scott Nass, MD, MPA, president GLMA: Healt
"Shanker's book provides an excellent desk reference for activists, but also for those who remember when we were all "Gay" and not out, when we were not a demographic about whom everyone knew someone–those who consider themselves neither queer, nor activist. This book is for those folks too. PS Once you begin, you will want to read it cover to cover. It's the first book of the new decade that is a must-have, so get yours today." —Sherri Rase, New York News
"Bodies and Barriers is an important collection that shares largely unheard voices and stories from the community. It should motivate LGBTQ folks to take their health care more seriously — and demand professionalism from the medical community. It is a valuable addition to the literature." —Gary Kramer, Philadelphia Gay News