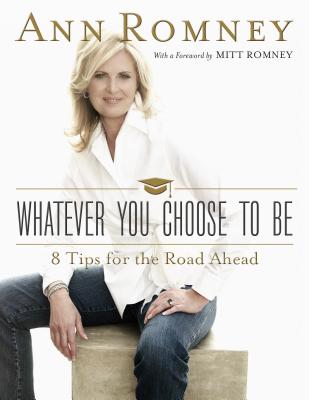 Whatever You Choose to Be (Hardcover)
Eight Tips for the Road Ahead
Shadow Mountain, 9781629720142, 48pp.
Publication Date: April 7, 2015
* Individual store prices may vary.
Description
For today's twenty-somethings the possibilities and opportunities are exhilarating, limitless and sometimes confusing with no clear-cut paths for the major life choices one must make after college graduation. In this new gift book, inspired by a commencement speech she gave in 2014, the former First Lady of Massachusetts and wife of 2012 presidential candidate Mitt Romney, Ann Romney puts forth eight key life lessons, the pieces of advice she wishes someone had given her when she graduated college.

The eight life lessons are Ann Romney's candid and inspirational words of wisdom with stories and examples gathered from her life's journey through adversity and success with windows of insight from the many people who have inspired, encouraged and influenced her in her public and private life.
About the Author
Ann Romney received a bachelor of arts degree in French from Brigham Young University and was awarded an honorary doctorate from Southern Utah University in 2014. As the first lady of Massachusetts she worked to focus attention on the challenges facing at-risk youth and served as the Governor's Liaison to the White House Office of Faith-Based and Community Initiatives. Diagnosed with multiple sclerosis in 1998, she has volunteered much of her time to raise awareness of the disease and founded the Ann Romney Neurological Research Center at Brigham and Women's Hospital. She places primary importance on being a wife, a mother, and a grandmother.