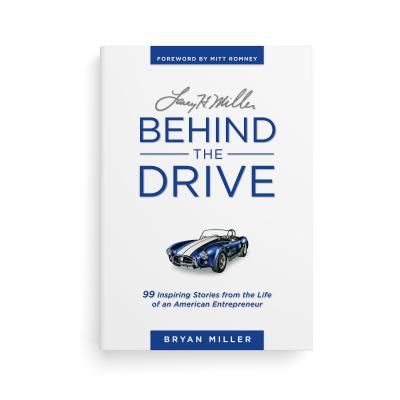 Larry H. Miller--Behind the Drive (Hardcover)
99 Inspiring Stories from the Life of an American Entrepreneur
Shadow Mountain, 9781629720944, 432pp.
Publication Date: November 3, 2015
* Individual store prices may vary.
Description
In Driven: An Autobiography, business mogul Larry H. Miller shared his painful and joyful lessons about the many facets of his life and legacy and candidly spoke about the people and circumstances that influenced him. In Larry H. Miller--Behind the Drive, the tables are turned as we hear firsthand from both famous and obscure people whose lives were influenced, inspired, and even transformed by the compassion, generosity, and leadership of Larry. Nearly 100 individuals share personal stories about the man who they came to know and love as a philanthropist, a Good Samaritan, an angel in disguise. Quite frankly, Larry H. Miller simply loved helping people. It didn't matter who they were. It didn't matter what he was doing at the time. When Larry heard the call for help, he unassumingly went about to make things better. The marvel of Miller isn't what he did to shape a community or touch a life, it's how he did it--one person at a time. Readers might ask how did Larry H. Miller have the time to personally impact so many lives? The answer--Larry chose to use his time a little bit differently than most. Larry H. Miller--Behind the Drive pulls back the curtain and shows us the difference one person can make when he's driven to serve.
About the Author
Bryan Miller is the youngest son of Larry H. and Gail Miller and has entertained and inspired audiences with insights gleaned from three and a half decades growing up and working inside a nationally recognized, multibillion-dollar family business. He founded Miller Inspiration to preserve and perpetuate the Miller spirit within the Larry H. Miller Group of Companies and also serves as a member of the board of directors.Bryan teaches principles of conscious business and transformational leadership. He graduated from the University of Utah with a bachelor's degree in English and another in Asian Studies. He enjoys motorcycling, running, writing, and traveling. Bryan and his wife, Dawn, are professional life coaches, and they reside in Sandy, Utah, with their six children.To learn more about Bryan's speaking, coaching, and workshops, please visit www.bryanmiller.com.