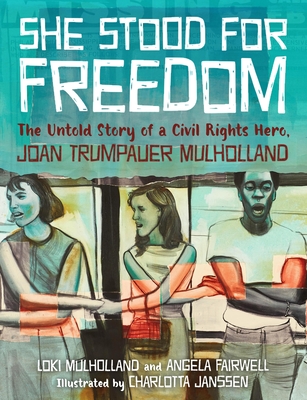 She Stood for Freedom
The Untold Story of a Civil Rights Hero, Joan Trumpauer Mulholland
Hardcover

* Individual store prices may vary.
Other Editions of This Title:
Hardcover (8/2/2016)
Description
Joan Trumpauer Mulholland was a white teenager in the South during Segregation who put herself on the front lines of the Civil Rights struggle. This is the first biography about her experiences, published simultaneously in picture book and middle grade editions, detailing the many events she participated in. She attended demonstrations and sit-ins and was one of the Freedom Riders in 1961 who was arrested and put on death row for months at the notorious Parchman Prison. She was the first white person to join in the 1963 Woolworth's lunch counter sit-ins in Jackson, Mississippi, and that same year participated in the March on Washington with Dr. Martin Luther King and the Selma to Montgomery march in 1965 which contributed to the passage of the landmark Voting Rights Act that year. Her willingness to stand up for justice has been an inspiration, "Anyone can make a difference. It doesn't matter how old or young you are. Find a problem, get some friends together, and go fix it. Remember, you don't have to change the world . . . just change your world." The picture book edition of She Stood for Freedom describes in an age-appropriate way how the America of Joan Trumpauer Mulholland's youth was torn by racial injustice. Through carefully crafted storytelling and the collage artwork of Charlotta Janssen, young readers will come to understand the struggle during the tumultuous era of the 1960s Civil Rights Movement from blacks being arrested for marching to register to vote or participating in peaceful sit-ins to the daily injustices of living in segregation. The book emphasized the heroes who worked for positive change and equality under the law.
Shadow Mountain, 9781629721767, 40pp.
Publication Date: August 2, 2016
About the Author
Loki Mulholland is an award-winning filmmaker. His film, An Ordinary Hero, tells his mother's story and is featured at the National Civil Rights Museum and at www.anordinaryhero.com. He is the Executive Director of the Joan Trumpauer Mulholland Foundation. Angela Fairwell attended South Carolina State University where she earned a degree in business management. She has been involved in a number of charitable organizations, including the Family for Literacy program, which strives to combat childhood illiteracy by donating new books to children from low-income families. Charlotta Janssen was born in Maine to German parents. She studied art at the University of the Arts in Berlin, Germany. Her art has been showcased in more than forty gallery exhibitions worldwide, and she has been featured in American Art Collector magazine, The New Yorker, New York Daily News, The Tennessean, Oprah.com, and HipHopWired.com.
or
Not Currently Available for Direct Purchase