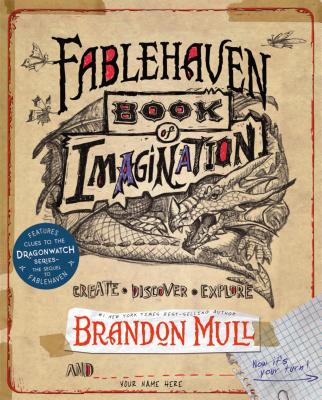 Fablehaven Book of Imagination
Paperback

* Individual store prices may vary.
Description
Fablehaven has sold more than 3.5 million copies and readers made
The Caretaker's Guide to Fablehaven
, the first visual discovery and definitive guide to all the mythical creatures of Brandon Mull's wildly brilliant imagination, a bestseller in Fall 15. Now it's the READER'S turn to tap into your imagination in the very first interactive guide to Fablehaven Tuck this journal into your backpack, tote it along and use it as a fun activity book for all things Fablehaven and to reflect on the mythical creature metaphors found in the series.
Examples:
If you owned your own invisibility glove like Seth, how would you use it today?
Learn how to draw a dragon's head with step-by-step instructions.
You have found the legendary Totem Wall. Choose a face to speak with. What question would you ask?
Within the pages of this book are secret codes what will help the reader discover a secret message from Brandon Mull about Dragonwatch, the sequel to Fablehaven.
Dragons can create paralyzing fear. Imagine your hands and arms were literally paralyzed from encountering a dragon, but you still needed to write a message. Use your feet or mouth to write a note on the page.
Create your own art: draw your own magical preserve. Include your home, landmarks, trees, trails, areas to avoid. Where is it located? What is it called?
Draw your family pet as if it were a guardian to a hidden, ancient artifact. What special power does your pet have to protect the treasure it is guarding?
Fans will also find coloring book pages, mazes, scavenger hunts, and instructions for origami creatues of Fablehaven characters like Raxtus
Shadow Mountain, 9781629722412, 160pp.
Publication Date: October 4, 2016
About the Author
Brandon Mull has worked as a comedian, a filing clerk, a patio installer, a movie promoter, a copywriter, and briefly as a chicken stacker. For a couple of years, he lived in the Atacama Desert of Northern Chile, where he learned Spanish and juggling. He currently lives in Utah in a happy little valley near the mouth of a canyon with his four children and dog named Buffy. Brandon is the #1 New York Times best-selling author of the Fablehaven, Beyonders, and Five Kingdoms series. Visit Brandon at BrandonMull.com.