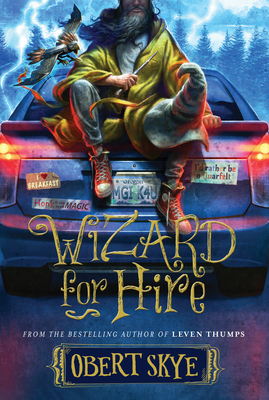 Wizard for Hire, Volume 1 (Hardcover)
Shadow Mountain, 9781629724126, 416pp.
Publication Date: March 6, 2018
Other Editions of This Title:
Compact Disc (3/6/2018)
MP3 CD (3/6/2018)
Compact Disc (3/6/2018)
* Individual store prices may vary.
Description
Fourteen-year-old Ozzy lives near Portland, Oregon, and is desperate for help. His scientist parents have been kidnapped after discovering a formula that enables mind control. Their work was so top secret Ozzy is afraid to go to the police, but without help, he fears he'll never find his parents. Then he stumbles across a classified ad in the local newspaper that says "Wizard for Hire. Call 555-SPEL." Ozzy has read about wizards in books like Harry Potter, but wizards couldn't actually exist today, could they? After Ozzy meets the wizard Labyrinth--aka Rin--he's even more skeptical. Sure, Rin dresses like a wizard, but the short robe and high-top tennis shoes seem unorthodox, as does Rin's habit of writing notes on his shoes and eating breakfast for every meal. Plus, Rin doesn't even cast any magic spells, which means that the unexplained coincidences that start happening around Ozzy are just that--coincidences. With the help of a robotic-talking raven invented by Ozzy's father, a kind and curious girl at school who decides to help Ozzy, and, of course, a self-proclaimed wizard who may or may not have a magical wand, Ozzy begins an unforgettable quest that will lead him closer to the answers he desperately seeks about his missing parents.
About the Author
Obert Skye has traveled to all fifty states, visiting with children and librarians in hundreds of schools and inspiring people to read. Besides traveling and writing, he enjoys solving mysteries and collecting old maps. His bestselling Leven Thumps series has sold hundreds of thousands of copies nationwide, and he is also the author of The Creature in My Closet series, the Witherwood Reform School series, and the Pillagy trilogy. "Imagination is one of the most powerful things in the world," he declares. "It's the vehicle that opens your mind to the impossible."