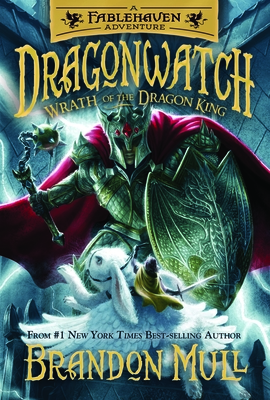 Wrath of the Dragon King (Dragonwatch #2) (Hardcover)
Shadow Mountain, 9781629724867, 416pp.
Publication Date: October 23, 2018
* Individual store prices may vary.
Description
War has come to the dragon sanctuaries of the world, and nowhere is the danger more intense than at Wyrmroost. After a humiliating defeat at the hands of Kendra and Seth, Celebrant, King of Dragons, prepares to unleash his fury and take control of his native preserve. Armed with information from a new ally--Ronodin, the dark unicorn--Celebrant seeks a legendary talisman--the dominion stone.

However, the powerful stone is protected by a cursed castle. Upon entering the castle fortress, an unyielding power strips all magical beings of their power and forces Celebrant to take his human avatar form. Kendra and Seth must enter the cursed castle as well. The race is on. Will the two young caretakers rally enough support from the creatures of Wyrmroost against the greatest threat the magical community has faced in ages? Can they foil Celebrant's plan and beat him to the mighty dominion stone? Or will all hope be shattered by the wrath of the Dragon King?
About the Author
Brandon Mull has worked as a comedian, a filing clerk, a patio installer, a movie promoter, a copywriter, and briefly as a chicken stacker. For a couple of years, he lived in the Atacama Desert of Northern Chile, where he learned Spanish and juggling. He currently lives in Utah in a happy little valley near the mouth of a canyon with his four children and dog named Buffy. Brandon is the #1 New York Times best-selling author of the Fablehaven, Beyonders, and Five Kingdoms series. Visit Brandon at BrandonMull.com.