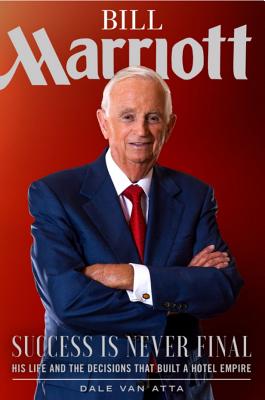 Bill Marriott
Success Is Never Final--His Life and the Decisions That Built a Hotel Empire
Hardcover

* Individual store prices may vary.
Other Editions of This Title:
Compact Disc (9/3/2019)
Description
Bill Marriott, son of J. Williard Marriott who opened a root-beer stand that grew into the Hot Shoppes Restaurant chain and evolved into the Marriott hotel company, grew up in the family business. In his more than fifty years at the company's helm, Bill Marriott was the driving force behind growing Marriott into the world's largest global hotel chain. His vision and leadership expanded the family business to more than 6,500 properties across 127 countries and territories. Bill Marriott: Success Is Never Final gives readers an intimate portrait of the life of a billionaire and business titan and shares his definition of success. Bill shares details about his very structured childhood including the private struggles with his domineering father's chronic harsh criticism; his time in the United Sates Navy as an officer aboard the U.S.S. Randolph; how he innovated the hotel industry with resort-like facilities; his dogged courtship with Donna, who would eventually say yes to his marriage proposal over a pay phone; and the boundless passion and energy he demonstrated for his work, family, and faith. Bill also shares spiritual experiences that allowed him to recognize God's guidance in his personal life, helping him bounce back from a life-threatening explosion in a freak boating accident which caused severe burns over his body. Readers will learn the fascinating details about the successes and failures of Bill's business ventures and relate to his challenges of balancing roles as a CEO, a husband and father, and a man of faith. From his half-billion-dollar venture and "bet-the-farm" move to build the New York Marriott Marquis hotel, to the heartbreaking loss of an adult son whose body slowly degenerated from Mitochondrial Disease, to the billions of dollars donated to medical research, the biography of Bill Marriott tells the remarkable story of a man who had the vision to create a multi-billion dollar business, who understood the power of giving, and lived the creed that hard work will pay off but success is never final.
Shadow Mountain, 9781629726007, 528pp.
Publication Date: September 3, 2019
About the Author
Dale Van Atta is a New York Times best-selling author and journalist who has been nominated five times for the Pulitzer Prize. He co-authored the world's most widely-syndicated news column with Jack Anderson; their daily column appeared in the Washington Post and nearly 1,000 other newspapers, reaching 50 million readers. He is a former roving Editor for Reader's Digest, and has been published in numerous other national publications and has written several books. ​Van Atta lives in Ashburn, Va., with his wife of 45 years, Lynne. They have three children.