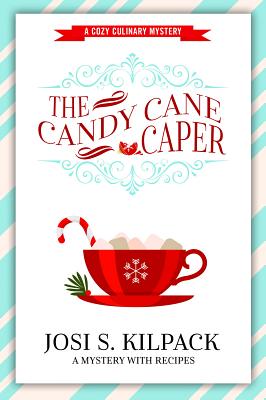 The Candy Cane Caper, 13
Paperback

* Individual store prices may vary.
Other Editions of This Title:
Digital Audiobook (12/30/2019)
Description
The theft of a friend's priceless, family-legacy Christmas ornaments brings amateur detective and culinary expert, Sadie Hoffmiller, back on the case in a new standalone cozy mystery. In the latest chapter to the Culinary Mystery series, amateur detective Sadie Hoffmiller continues combining her sleuthing with her cooking and baking to connect with people and gain information she might otherwise not have access to. Moreover, now that Sadie is married to Detective Pete Cunningham, she has a street-savvy husband to test out her crime-solving theories. With Christmas approaching, Sadie is preparing for a large blended-family gathering--including many new grandchildren--in their home in Fort Collins, Colorado. Even with the festive chaos, Sadie drops everything when word gets out that her friend, Mary, is the victim of a holiday robbery. At ninety-four years old, and nearly blind, Mary knows this is may be her last Christmas and the last year to enjoy her family heirloom Christmas tree ornaments. She wants just one more holiday to display her ornaments and following Christmas Eve Mass, she'll pass them on to her great-granddaughter, Joy. Though priceless to the family, the collection has been valued at $40,000, and the Christmas tree in the care facility has never looked so good. But before the ornaments can be retrieved by Mary, eleven of the most expensive ornaments are stolen. A holiday Christmas caper might be new to Sadie, but she's ready to mix in her seasoned crime-solving skills with a pinch of new holiday recipes.

Shadow Mountain, 9781629726014, 320pp.
Publication Date: October 1, 2019
About the Author
Josi S. Kilpack is the bestselling author of several Proper Romance novels and the Sadie Hoffmiller Culinary Mystery series. She and her husband, Lee, are the parents of four children.