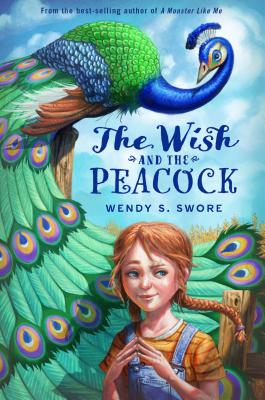 The Wish and the Peacock
Hardcover

* Individual store prices may vary.
Other Editions of This Title:
Digital Audiobook (5/4/2020)
Compact Disc (5/5/2020)
MP3 CD (5/5/2020)
Description
Living on a small Idaho vegetable farm, Paige's family has faced tough times before, but a year after the loss of her father, her mom is overwhelmed by the financial challenges and reluctantly agrees to sell the farm. However, when a realtor pounds the "For Sale" sign into the family's front yard, the reality (and finality) of it is almost too much to bear. Paige is determined to do whatever it takes to save her father's farm, which has been in their family for generations. With the help of her little brother, her best friends, Matteo and Kimana, and, of course, her trusty farm dog, T-Rex, Paige believes she can use her "farm smarts," however sneaky, to try to stop the sale of the farm. She puts makeup on the cows so they look sickly to potential buyers, and she pranks the realtor by releasing a jar of grasshoppers in her car. Her efforts don't stop reality from setting in; her mother and grandfather just don't have enough money to keep the farm running and selling it is their only option. But who will be the new owners, and where will her family go? Paige finds a new appreciation for the land, animals, and even the barn she once took for granted. One day while roaming in the hay barn, Paige finds a peacock. She's fascinated by the beauty of the bird's plumage but discovers an injured wing among its fancy feathers. Since the bird cannot fly and return home, Paige is eager to nurture it back to health. Her book-smart brother helps her care for the bird and tells Paige that peacocks are symbols of luck, protection, and integrity in folklore and legends. Shortly after the exotic bird is discovered, a man dressed in a business suit shows up on the farm with his two children and claims ownership of the peacock. Paige is devastated by the prospect of yet another loss and, again, prepares to face an adversary. Paige is suspicious of him, especially because he's spending a lot time with her mom. But her first impressions are wrong and, like the peacock, his true colors show him in a positive light. He's a journalist looking for a good, human-interest story about their farming community and Paige sees a way to make the farm a solution that will help everyone. With all the changes and challenges she faces with her family, Paige learns that sometimes the idea of a home is less about place and more about the people you call a family and that asking for help isn't a sign of weakness, but an opportunity for working with others and building strength.
Shadow Mountain, 9781629726083, 304pp.
Publication Date: February 4, 2020
About the Author
Wendy S. Swore and her family are farmers. She writes part-time, particularly in winter when her farming chores give her time to plant seeds in her imagination. She is a member of SCBWI.