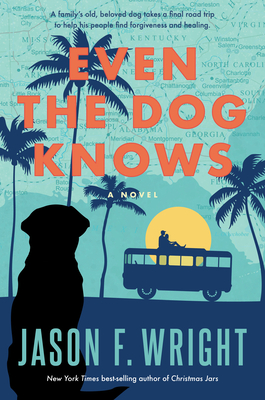 Even the Dog Knows
Hardcover

* Individual store prices may vary.
Other Editions of This Title:
Digital Audiobook (6/6/2022)
Paperback, Large Print (2/8/2023)
MP3 CD (6/7/2022)
Compact Disc (6/7/2022)
Description
A family's old, beloved dog takes a final road trip to help his humans find forgiveness and healing. Meg Gorton finds herself alone and lonely in Florida. Three years earlier, she had packed what she could fit into her sister's car, told her estranged husband, Gary, where he could find her, and asked him to take care of Moses, their beloved black Labrador. For years, she'd tried to talk Gary into moving away from Woodstock, Virginia. They both needed a fresh start after the loss of their only daughter many years ago. Even after raising their grandson, Troy, it was clear that if Meg wanted a new beginning, she would have to do it alone. Now, with some looming health issues, Meg has a plan to finally bring Gary to Gulf Breeze. Gary wasn't able to move on the same way Meg did. Haunted by the tragedy of his daughter's death, and painfully aware of his guilt because he feels partly responsible, he is stuck in his life. He still owns and drives the bus for their hometown minor league baseball team. And he still thinks about the day his wife drove away. At least he still has Moses, who is always willing to listen when Gary talks about his regrets and all the things he should have done differently. Meg contacts Gary with a surprise request: she wants him to bring Moses to visit her one last time before the old dog passes on. Gary is reluctant to go, but Troy thinks it's an excellent idea. They could even travel together in Gary's bus. Along the way, Gary takes a detour to visit Troy's ex-girlfriend, Grace--the woman who Gary and Meg always believed was the one for Troy. Gary might not know how to fix things with his wife, but he knows he doesn't want Troy to make the same mistakes he did. Although Moses is just a dog, he's very observant: Gary hasn't been the same since Meg left, Troy is hiding something, and Grace's fingers smell like bacon. It doesn't take long for Moses to learn they are going on a road trip to see Meg. He misses her and regularly senses Gary's loneliness. He knows he's an old dog and that his time is near, but he also knows there are still important things he needs to do. Even the Dog Knows is a novel that will take readers on a thousand-mile journey to find forgiveness, understanding, healing, and the meaning of true and lasting love.

Shadow Mountain, 9781629729909, 336pp.
Publication Date: March 8, 2022
About the Author
Jason Wright is a New York Times, Wall Street Journal, and USA Today bestselling author, creator, and speaker. His work has appeared in more than a hundred newspapers, magazines, and websites across the United States, including the Washington Times, the Chicago Tribune, Forbes, CNN.com, and FoxNews.com. Jason and his wife, Kodi, live in Virginia's beautiful Shenandoah Valley.