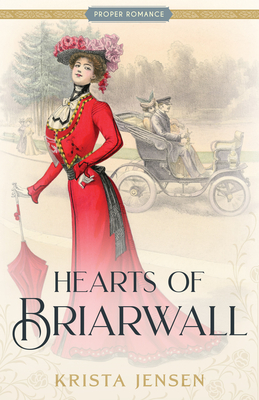 Hearts of Briarwall
Paperback

* Individual store prices may vary.
Other Editions of This Title:
Library Binding, Large Print (11/9/2022)
Compact Disc (8/2/2022)
MP3 CD (8/2/2022)
Description
London and the countryside of Albury, England, 1906 Lydia Wooding can hardly keep up with all the inventions the new century has brought. She's particularly fond of the petrol motor car, a luxury that fuels her longing for independence. Her older brother and guardian, Andrew, however, refuses her frequent requests to learn to drive. He's been extra protective of Lydia after their parents were killed in a motor car accident, and he'd prefer his sister focus her attention on finding a suitable husband. Lydia and her three best friends anticipate they'll all get married someday, and they certainly enjoy the attention they receive from their coterie of suitors. But settling down is hardly a priority for any of them when there is so much life to experience. Inspired by the play Peter Pan, which they all saw on the London stage, and its promise of everlasting fun and adventure, the young women vow to seize the day and pursue all that life has to offer, including engaging in meaningful causes like the upcoming, and controversial, women's suffrage march. Spencer Hayes is a man of practicality, purpose, and innovation, but he lacks the financial backing to make his dreams a reality. When he contacts his childhood friend, Andrew Wooding, about a promising business venture, he is happy to be invited to Briarwall Estate to discuss the terms. Once there, he is surprised to find that Andrew's shy, younger sister, Lydia, has grown into a young woman of beauty, wit, and a bit of fire. Even better, the two share a passion for motor cars. Torn between his dream for the future and pursuing a relationship with a passionate, free-spirited woman intent on creating her own future, Spencer must figure out how to protect his head and his heart from Lydia who is determined to live life to the fullest--and change the world in the process.
Shadow Mountain, 9781629729961, 288pp.
Publication Date: August 2, 2022
About the Author
Krista Jensen grew up in Washington State, lived in Oregon for many years, and now lives in northwestern Wyoming with her husband and four children. Krista began writing seriously after her youngest child started school. She places her characters in the settings she loves and challenges them to dig deeper and fight for what they want most.