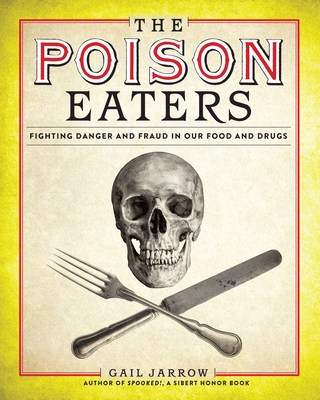 The Poison Eaters
Fighting Danger and Fraud in our Food and Drugs
Hardcover

* Individual store prices may vary.
Description
Formaldehyde, borax, salicylic acid. Today, these chemicals are used in embalming fluids, cleaning supplies, and acne medications. But in 1900, they were routinely added to food that Americans ate from cans and jars.

In 1900, products often weren't safe because unregulated, unethical companies added these and other chemicals to trick consumers into buying spoiled food or harmful medicines. Chemist Harvey Washington Wiley recognized these dangers and began a relentless thirty-year campaign to ensure that consumers could purchase safe food and drugs, eventually leading to the creation of the U.S. Food and Drug Administration, or FDA, a US governmental organization that now has a key role in addressing the COVID-19/Coronavirus pandemic gripping the world today. Acclaimed nonfiction and Sibert Honor winning author Gail Jarrow uncovers this intriguing history in her trademark style that makes the past enthrallingly relevant for today's young readers.

Six starred reviews -- ★Booklist ★BCCB ★Kirkus Reviews ★Publishers Weekly ★School Library Connection ★Shelf Awareness

An ALSC Notable Children's Book * A Washington Post Best Children's Book * NCTE Orbis Pictus Honor Book * A BCCB Blue Ribbon * A Kirkus Reviews Best Children's Book * A NSTA Outstanding Science Trade Book for Students K-12 * A Chicago Public Library Best Children's Book

★ "Revolting and riveting in turns, Jarrow's masterfully crafted narrative will fundamentally alter how readers view their food.Though laced with toxins, this is anything but toxic." -- Kirkus Reviews, starred review

Praise For The Poison Eaters: Fighting Danger and Fraud in our Food and Drugs…

"Not just for... middle-graders... (a) lively... thoroughly researched book."
-- The Washington Post

★ "(A) fascinating, stomach-churning account of Harvey Washington Wiley's crusade for food safety standards and regulation in the U.S. Vintage ads, product labels, newspaper headlines, cartoons, and photographs offer a visual feast for readers, who will be so engrossed in the stories of unconscionable products and unwitting victims that they won't realize they're imbibing a powerful lesson in food safety and the evolution of today's FDA. Extensive source notes and resources are icing on the cake." -- Booklist, starred review

★ "Jarrow is brutally honest in her descriptions of the ill effects of certain toxins, and the included cheerful ads promoting poisonous products make for a particularly chilling juxtaposition. The no-nonsense tone mixes with wealth of riveting anecdotes to create a surprisingly heady brew of consumer history." -- The Bulletin of the Center for Children's Books, starred review

★ "Jarrow vivaciously draws readers into a world of horrors hiding in plain taste. Maintaining a matter-of-fact, conversational tone throughout, she presents a tantalizing flood of anecdotes and facts, text peppered with old magazine adverts, photographs, and gory details aplenty; extensive backmatter encourages further research into a subject more than fascinating enough to warrant it. Revolting and riveting in turns, Jarrow's masterfully crafted narrative will fundamentally alter how readers view their food. Though laced with toxins, this is anything but toxic." -- Kirkus Reviews, starred review

★ "A provocative... riveting chronicle... (i)n gripping, relatable language... this easy-to-read work (is) a fine classroom resource and an excellent addition to any collection. " -- Publishers Weekly, starred review

★ "In this microhistory about the pure food movement, Gail Jarrow has created an excellent reference book about a little-regarded topic that will be useful to classes learning about science, American history, and government. The pictures include a variety of primary sources, including photographs, advertisements, political cartoons, and letters, all of which support further research." -- School Library Connection, starred review

"With detailed descriptions of revolting food-production standards and dangerously uncontrolled medications, Jarrow captivates readers with a history of food and drug regulation. Recommended for nonfiction readers and anyone interested in what they are eating." -- School Library Journal

"Jarrow... traces the story of Dr. Harvey Washington Wiley, now known as the "Father of the FDA," who devoted his life to getting the federal government to take responsibility for protecting consumers from poisonous foods. It's a fascinating horror story and an important study of real-life heroes who stood up and fought for government intervention on behalf of the American people.The book's open layout and plentiful archival photographs, advertisements, and other visuals enhance accessibility and interest." -- The Horn Book Review

Calkins Creek, 9781629794389, 160pp.
Publication Date: October 15, 2019
About the Author
Gail Jarrow is the author of nonfiction books and novels for young readers. Her books have earned the Robert F. Sibert Informational Honor, YALSA Award Nomination for Excellence in Nonfiction, a Notable Social Studies Trade Book, Outstanding Science Trade Book, a NSTA Best STEM book, the Jefferson Cup Award, the Eureka! Gold Award, an Orbis Pictus Recommendation, as well as Kirkus Reviews and School Library Journal Best Books and VOYA Honor Book distinctions.