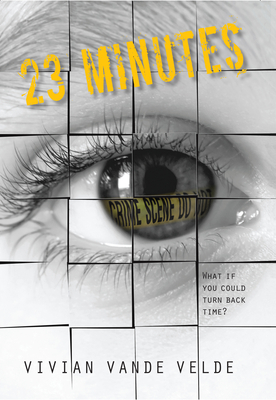 23 Minutes (Hardcover)
Boyds Mills Press, 9781629794419, 176pp.
Publication Date: April 5, 2016
* Individual store prices may vary.
Description
With a fascinating plot involving time travel, this fast-paced, emotional suspense novel will keep middle grade and young adult readers at the edges of their seats.

By both society's measure and her own, fifteen-year-old Zoe Mahar is pretty much a loser. Then one day she ducks into Spencerport Savings and Loan simply to get out of the rain—and witnesses a bank robbery gone horrifyingly wrong. The good news is that Zoe has a unique ability: she can play back time and repeat events. But it's not an unlimited deal—she can only jump 23 minutes, and her first playback creates an even more disastrous outcome. Zoe has only 10 tries to get it right before this particular 23 minutes becomes irreversible. In the process of trying to become the heroine she doesn't believe she can be, Zoe learns about herself and realizes that there is more to who she is than she thought.
About the Author
Vivian Vande Velde is the author of numerous fantasy and speculative-fiction novels for children and teenagers, many of which were ALA Best Books for Young Adults. She won the Edgar Award for Never Trust a Dead Man, which was also named a School Library Journal Best Book of the Year. She lives in Rochester, New York. Visit vivianvandevelde.com.
Praise For 23 Minutes…
"(W)ith new details in each playback, a gradual explanation of Zoe's background, and a slowly forming bond between Zoe and Daniel, readers will remain engaged and invested in the story line.... For middle school and early high school fans of speculative fiction." -School Library Journal

"Blue-haired Zoe Mahar ducks into a bank to escape a downpour and comes face to face with a robber who's not afraid to use his gun. The violent encounter leaves two people dead, including a friendly young man who shields Zoe from a bullet. But Zoe, 15, has a special ability to turn back the clock 23 minutes just by saying "playback," allowing her to change the outcome of events....Vande Velde brilliantly opens the novel... Zoe comes across as a clever girl with a sense of humor about her own opinionated nature. A gripping page-turner for time fantasy enthusiasts." -Kirkus Reviews

(G)ripping from the start... Zoe is a compelling heroine in a tense situation... an ideal option for reluctant readers—they'll dive in in spite of themselves and likely find it hard to put down.' -The Bulletin of the Center for Children's Books

"[Zoe] can travel back in time—within limits. She can play back exactly twenty-three minutes and can redo the same time block up to ten times....Just when she thinks she has things figured out, in the next rerun of those not-quite-the-same twenty-three minutes, a fresh revelation clobbers her. Velde strengthens the tension with a third-person point of view that allows readers to be clobbered more deliciously at a distance." -VOYA Magazine