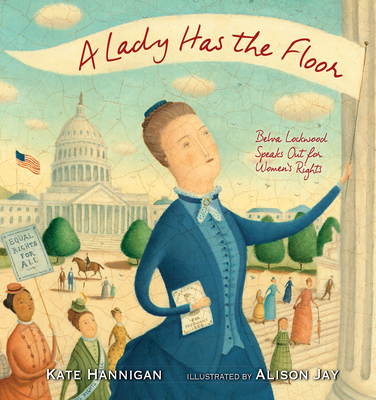 A Lady Has the Floor
Belva Lockwood Speaks Out for Women's Rights
Hardcover

* Individual store prices may vary.
Other Editions of This Title:
Paperback (2/1/2022)
Description
Written in the same vein as the recent best-selling titles I DISSENT and SHE PERSISTED, here is a nonfiction picture book biography of Belva Lockwood, a lawyer, activist and presidential candidate who devoted her life to overcoming obstacles and demanding equality for women.

Activist Belva Lockwood never stopped asking herself the question Are women not worth the same as men? She had big dreams and didn't let anyone stand in her way--not her father, her law school, or even the U.S. Supreme Court. She fought for equality for women in the classroom, in the courtroom, and in politics. In her quest for fairness and parity, Lockwood ran for President of the United States, becoming the first woman on the ballot. In this riveting nonfiction picture book biography, award-winning author Kate Hannigan and celebrated artist Alison Jay illuminate the life of Lockwood, a woman who was never afraid to take the floor and speak her mind.
Praise For A Lady Has the Floor: Belva Lockwood Speaks Out for Women's Rights…
★"(An) informative and delightful biography… Hannigan's style is pithy, but packed with facts. Belva comes alive as a feisty activist…Jay's signature crackled artwork has a historical look, but also a childlike appeal that will bring the audience close. An excellent example of picture-book biography." — Booklist, starred review

★"This is an engaging introduction to a woman unknown to many, young and old, giving some insight into her adventurous personality. Her quotes are integrated into the illustrations, executed in oils with a crackle varnish, with a look reminiscent of 19th-century folk art. Soft blues and browns predominate in the naïve paintings, lending to their antique appearance. An excellent, well-researched model of its genre, which will inspire children to do whatever they desire in life, no matter what immediate restrictions exist." — Kirkus Reviews, starred review

★"Hannigan presents an invigorating account of the life of Belva Lockwood…Working in her distinctively crackled folk style, Jay depicts powerful moments of resistance and courage from Lockwood's life. Endnotes provide a timeline…highlighting significant events in the ongoing fight for women's rights." — Publishers Weekly, starred review

★"Young Belva Lockwood was afraid of nothing...and refused to be silenced. Students will...be amazed at the fearlessness of this unsung champion of equal pay, equal opportunities, and equal respect for all. Highly Recommended." — School Library Connection, starred review

"Hannigan thoroughly details Lockwood's many triumphs, beginning with her childhood and young adult years, and concluding with her unsuccessful, though impressive, run for president. Nearly each page offers a quote from Lockwood's speeches and writings and most resonate with today's political climate…A time line provides dates and pertinent facts about the subject and the accomplishments of other women in law and politics. Lockwood's struggles against great odds in the name of freedom are well outlined in this work. A fine addition to nonfiction collections." — School Library Journal

"Belva Ann Bennett Lockwood managed to rack up a string of women's 'firsts' by storming the gates during a period in which Elizabeth Cady Stanton and Susan B. Anthony could seem somewhat passive in comparison. Jay('s) folk-art style with elongated figures, (and) muted tones… convey a sense of antiquity." — The Bulletin of the Center for Children's Books
Calkins Creek, 9781629794532, 32pp.
Publication Date: January 30, 2018
About the Author
Kate Hannigan loves digging up stories about remarkable people forgotten by history. She is the author of The Detective's Assistant, the story of America's first woman detective, which won the SCBWI Golden Kite Award for best middle-grade fiction. She is also the author of the Cupcake Cousins series. Kate lives in Chicago, Illinois, with her family and dog. Visit katesbooks.com

Alison Jay has been drawing and painting since she was a child. She is the illustrator of many picture books, including If Kisses Were Colors by Janet Lawler and Listen, Listen by Phillis Gershator, and is the author and illustrator of Bee and Me. Alison lives in London, England.