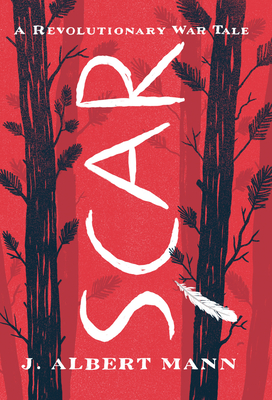 Scar
A Revolutionary War Tale
Hardcover

* Individual store prices may vary.
Description
Sixteen-year-old Noah Daniels wants nothing more than to fight in George Washington's Continental Army, but an accident as a child left him maimed and unable to enlist. He is forced to watch the Revolution from his family's hard scrabble farm in Upstate New York—until a violent raid on his settlement thrusts him into one of the bloodiest battles of the American Revolution, and ultimately, face to face with the enemy. A riveting coming of age story, this book also includes an author's note and bibliography.
Praise For Scar: A Revolutionary War Tale…
"The Revolutionary War forces a sheltered but determined boy to come of age. Sixteen-year-old Noah Daniels, frustrated by his crushed foot and patronized by strong-willed women, wants nothing more than to prove himself and honor his late father. He joins the militia... but finds himself wounded and befriending 'Scar', a wounded Mohawk soldier allied with the British.... Noah's narration, weaving between flashbacks and his current predicament, evokes the disjointed terror of a nightmare... A sobering characterization of not only a historical battle, but war itself." — Kirkus Reviews

"Mann's re-creation of the Battle of Minisink and its aftermath straightforwardly introduces readers to events and figures seldom visited in children's books.... Mann's narrative is unique in that it sheds light on this part of Native American history and, in particular, the Iroquois Confederacy's alliance with the British.... the rich, exhaustive research is evident within the writing as well as in the biographical information provided at book's end.... Mann has created a springboard for immersion in a sadly overlooked yet important part of our history. A worthy purchase for its thought-provoking portrayal of a military skirmish seldom explored in children's literature." — School Library Journal

Sixteen-year-old Noah has always felt that his maimed leg, the result of a farm accident, left him with something to prove.... When a British and Mohawk raid of Noah's New Jersey settlement leaves several dead and homes reduced to ashes, Noah joins with local militia men and supporters from around the region to track down Joseph Brant, the Mohawk leader who led the raid, and take him and his forces by surprise.... The compact structure, compelling flashbacks, and low page count will draw readers who don't generally gravitate toward historical fiction, and the epilogue, bibliography, and thumbnail bios of the real life players will please dedicated history fans.' — The Bulletin of the Center for Children's Books

Eager to be a hero in the Revolutionary War despite a childhood leg in jury, Noah rushes off with the local militia to avenge a deadly British raid on his New York farming community.... Noah's insightful narration allows readers a glimpse into a tiny rural community's life under British rule and provides a nuanced view of the tensions between settlers and natives caught in the cross fire of military strategy.... a remarkable meditation on the horror and loss that war brings to a community.' —Booklist
Calkins Creek, 9781629794655, 144pp.
Publication Date: April 5, 2016
About the Author
J. Albert Mann (Jennifer A. Mann) is the author of Sunny Sweet Is So Not Sorry, and its sequels Sunny Sweet Is So Dead Meat and Sunny Sweet Can So Get Lost. Her short stories have been published in Highlights for Children magazine. She lives with her family in Boston, Massachusetts. Visit jenniferannmann.com.
or
Not Currently Available for Direct Purchase