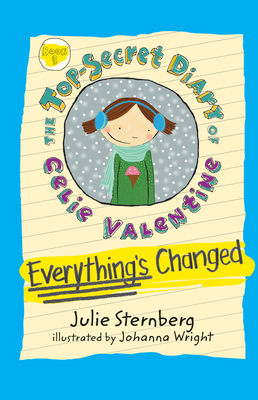 Everything's Changed (The Top-Secret Diary of Celie Valentine) (Hardcover)
Boyds Mills Press, 9781629796727
Publication Date: April 4, 2017
Other Editions of This Title:
Paperback (4/14/2020)
* Individual store prices may vary.
Description
From the best-selling author of Like Pickle Juice on a Cookie comes the latest story about ten-year-old Celie and the changes in her life. Celie and her family have moved an hour away from her school and her friends, and the changes don't stop there. At her new school, Celie struggles to make friends, torn between energetic and intriguing Mary Majors Meade and sweet but shy Charlie Larken, two classmates who do not get along. On top of adjusting to her new school, complete with harder homework and friendship troubles, Celie deals with changes at home when her forgetful Granny and a home nurse move into their apartment. When misunderstandings lead to a falling out between Celie's older sister Jo and her boyfriend, Celie is determined to make it right. However, her choices lead to a dangerous situation. Will Celie be able to handle all these new changes in her life? Once more Celie turns to her diary, filling the pages with heartfelt and often humorous entries, notes, drawings, and pages from her top-secret spy notebook.
About the Author
Julie Sternberg is the author of the best-selling Like Pickle Juice on a Cookie, its sequels Like Bug Juice on a Burger and Like Carrot Juice on a Cupcake, The Top-Secret Diary of Celie Valentine series, and Bedtime at Bessie and Lil's. She lives with her family in Brooklyn, New York. Visit juliesternberg.com.

Johanna Wright is the illustrator of Clover Twig and the Magical Cottage, Clover Twig and the Perilous Path, and several picture books, including the upcoming Spring 2017 book, Keep a Pocket in Your Poem, and her own The Secret Circus, Bunnies on Ice, and The Orchestra Pit. She lives with her family in Portland, Oregon. Visit johannawright.com.
Praise For Everything's Changed (The Top-Secret Diary of Celie Valentine)…
"In this third entry in the Top-Secret Diary of Celie Valentine series, Celie and her family have moved an hour away from everyone... and Celie has to start at a new school. Celie turns to her diary to work out what she should do, ...(and) the experience makes her resolve to stick to her principles. Celie remains delightful, and her observations and self-examination are astute." - Booklist

"A 10-year-old girl copes with a family move as well as challenges with both new and old friends in this third book about Celie Valentine. An urban story that explores the universal themes of integrity, trust, and respect in relationships." - Kirkus Reviews