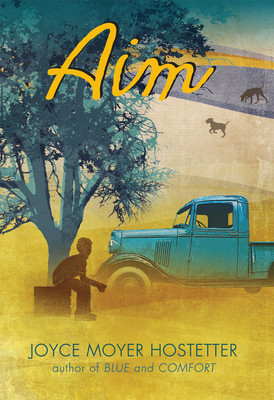 Aim (Bakers Mountain Stories) (Hardcover)
Calkins Creek, 9781629796734, 288pp.
Publication Date: October 4, 2016
* Individual store prices may vary.
Description
As World War II threatens the United States in 1941, fourteen-year-old Junior Bledsoe fights his own battles at home. Junior struggles with school and with anger—at his father, his insufferable granddaddy, his neighbors, and himself—as he desperately tries to understand himself and find his own aim in life. But he finds relief in escaping to the quiet of the nearby woods and tinkering with cars, something he learned from his Pop, and a fatherly neighbor provides much-needed guidance. This heartfelt and inspiring prequel to the author's Blue and Comfort also includes an author's note and bibliography.
About the Author
Joyce Moyer Hostetter is the author of Best Friends Forever. She received a BA in early childhood education at Lenoir Rhyne College in Hickory, North Carolina. Since then, she has continued her studies on the graduate level in special education at the University of North Carolina, Charlotte, and art at James Madison University in Harrisonburg, Virginia. She lives near Hickory.
Praise For Aim (Bakers Mountain Stories)…
"A boy grappling with life-changing decisions, unlikely friendships, and what it means to be a man is at the soul of this story... The year is 1941, and news of World War II simmers in the background... Hostetter's well-crafted turn of phrase and timely humor all add to the richness of the era. A must-have for historical fiction collections." —School Library Journal

Set in the south in the early days of World War II, readers will find the times different, but not Junior's struggle to grow into a man. Young adults who enjoy historical novels...will appreciate Hostetter's attention to detail and the realistic way Junior reacts to the personal and political events around him...he learns his lesson about earning respect and overcoming generations of abuse to arrive at a sense of peace by the end of the book.' – VOYA

"In this pre-World War II companion to the novels Blue (2006) and Comfort (2009), 14-year-old Junior Bledsoe fights personal battles at home as America's entry into the war grows imminent.... Hostetter creates a vivid sense of time and place in her early-1940s rural North Carolina setting and a fully realized, sympathetic character in Junior.... An absorbing, well-crafted coming-of-age story with finely detailed historical background." —Kirkus Reviews