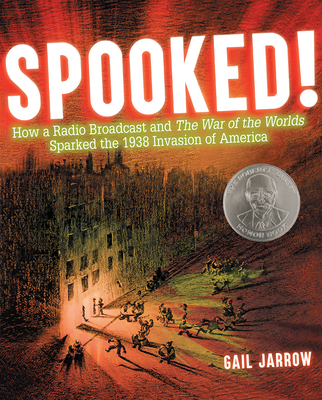 Spooked! (Hardcover)
How a Radio Broadcast and The War of the Worlds Sparked the 1938 Invasion of America
Calkins Creek, 9781629797762, 144pp.
Publication Date: August 7, 2018
* Individual store prices may vary.
Description
A 2019 Robert F. Sibert Informational Honor Book * A School Library Journal Best Book of the Year * A Booklist Editors' Choice * A Washington Post Best Children's Book * A BCCB Blue Ribbon * A Chicago Public Library Best of the Best Books
In this nonfiction title for young readers, acclaimed author Gail Jarrow explores in riveting detail the famous War of the Worlds radio broadcast from 1938, highlighting the artists behind the broadcast, the broadcast itself, the aftermath, and the repercussions of "fake news" today.

On the night of October 30, 1938, thousands of Americans panicked when they believed that Martians had invaded Earth. What appeared to be breaking news about an alien invasion was in fact a radio drama based on H. G. Wells's War of the Worlds, performed by Orson Welles and his Mercury Theatre players. Some listeners became angry once they realized they had been tricked, and the reaction to the broadcast sparked a national discussion about fake news, propaganda, and the role of radio. In this compelling nonfiction chapter book, Gail Jarrow explores the production of the broadcast, the aftermath, and the concept of fake news in the media.
About the Author
Gail Jarrow is the author of many popular nonfiction books, including Red Madness, Fatal Fever, and Bubonic Panic. Her books have received numerous starred reviews, awards, and distinctions, including Best Book awards from the New York Public Library, School Library Journal, the Bulletin of the Center for Children's Books, Kirkus Reviews, and the National Science Teachers Association.
Praise For Spooked!: How a Radio Broadcast and The War of the Worlds Sparked the 1938 Invasion of America…
★"Notable nonfiction author Jarrow (Fatal Fever, 2015) sets the stage…(w)ith intriguing details, complemented by rarely seen archival photos and illustrated scenes from Wells' original story…highlighting elements used to heighten the tension. Numerous and astounding reactions to the panic…are also described. Although interesting in its own right, the author extrapolates on this phenomenon, comparing it to today's fake news controversy. Ensuing freedom of the press debates and a sampling of modern-day social media hoaxes extend the theme. An enriching bridge that connects history with current events." –Booklist, starred review

★ "In an era of alternative facts and fake news, telling the story of the infamous 1938 radio broadcast that convinced thousands of Americans a real-time Martian invasion of Earth was occurring could not be timelier. In a finely detailed narrative nearly as riveting as the broadcast…Jarrow deftly connects history to current events by comparing the phenomenon to contemporary fake-news controversies and ongoing freedom-of-press debates. Attractively designed, the text is complemented with archival photos of the broadcast and illustrated scenes from Wells' original story. A grippingly told story that adeptly makes history fascinatingly relevant to the present." – Kirkus Reviews, starred review

★"With a succinct and engaging story, Jarrow informs readers about the 1938 The War of the Worlds broadcast and why it became so famous. (She) contextualizes the climate in which the program aired (and)… keeps readers involved in the fact-packed story. (M)asterfully written…with unobtrusive interjections…Jarrow effectively uses full-page spreads…(and) allows readers to evaluate current events in light of this notorious event. Jarrow concludes with a with a well-organized list of online resources. A skillfully written title that deserves space in middle and high school libraries". - School Library Journal, starred review

★"Jarrow sets the stage perfectly in this detailed, illuminating exploration of why ordinary Americans panicked when they heard a broadcast of New Jersey being invaded by Martians on Oct. 30, 1938… Jarrow's engrossing analysis of an earlier era's 'fake news' provides timely reminders to readers, which are underscored in her author's note. An extensive 'More to Explore' section, illustrations from a 1906 edition of Wells's novel, period photos, timeline, source notes, and a bibliography round out this handsome volume."– Publishers Weekly, starred review

★ "Jarrow presents a detailed examination...(t)he book does an excellent job of recreating the broadcast itself with inserted annotations (and)…the takeaway lesson in thoughtful media consumption emerges effortlessly from this cautionary tale." - The Bulletin of the Center for Children's Books, starred review

"The 1938 broadcast of 'The War of the Worlds' and the ensuing panic are not that well known to students today. Jarrow does a good job of making connections between the reactions to the broadcast and today's 'fake news' and hoaxes... (A) fascinating addition to a research discussion about verifying your information and reputable sources." – School Library Connection

"Jarrow infuses her tightly plotted narrative with plenty of drama and suspense while weaving in sufficient background information, biographical vignettes, and play-by-play commentary to establish context. She concludes with a discussion of some subsequent hoaxes…an admirable feat of nonfiction storytelling." – The Horn Book