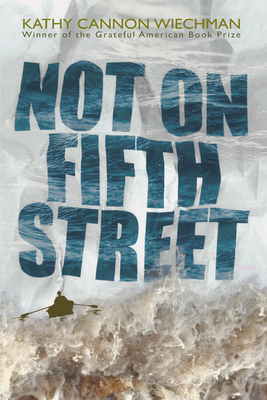 Not on Fifth Street (Hardcover)
Calkins Creek, 9781629798042, 240pp.
Publication Date: October 10, 2017
* Individual store prices may vary.
Description
It's 1937 and a storm is brewing over the town of Ironton, Ohio, and in the home of Pete and Gus Brinkmeyer. The two teenage brothers, once close, struggle with the growing differences in their relationship. Gus is the older and more cerebral brother, a romantic who falls for a girl his family does not approve of. He is also jealous of their father's seeming favoritism toward Pete, the more practical and physical brother. Pete struggles with the loss of his brother's friendship as Gus's jealousy and involvement with the girl drive a wedge between the two. When the Ohio River floods their town and the brothers are separated, each must discover his own strengths to survive and ultimately heal the fracture. Celebrated historical novelist Kathy Wiechman looks into her own family's history to create unforgettable characters caught up in a catastrophic, life-changing event. Includes an extensive author's note outlining the history behind the story.
About the Author
Kathy Cannon Wiechman is the author of Like a River: A Civil War Novel, which earned a Kirkus star and won the 2015 Grateful American Book Prize, and Empty Places, about life in a 1930s coal-mining camp in Kentucky. She lives with her family in Cincinnati, Ohio, not far from where the story of Not on Fifth Street takes place. Visit kathycannonwiechman.com.
Praise For Not on Fifth Street…
"Wiechman draws on family history to create a narrative... Told from the perspectives of brothers Pete and Gus, this tale presents two vastly different experiences...Wiechman deftly tells the story of the two protagonists' struggle to survive and depicts the characters' intricate familial relationships...(and) will keep readers wondering what will happen next. An excellent choice for fans of historical fiction." – School Library Journal

"This well-crafted book is strong in both plot and characters. The two brothers provide a personal connection to readers, and the ever-rising water is a perfect conflict for the background of their story. Told in short chapters, the engaging storyline will carry readers swiftly through the book. The historical perspective offers readers a picture of post-Depression Ohio, and the culture and values of the people during that time." – School Library Connection

"A taut family drama set during a historic natural disaster, this engaging tale told by two thoroughly appealing brothers will pull readers in and prompt the question of just what do we do when catastrophe suddenly strikes." -- Booklist  

"In this fast-paced historical novel…(t)he dual stories of the brothers provide plenty of drama, while the flood itself refuses to be upstaged by the human actors. A photo-illustrated author's note offers additional information on the 1937 flood and the author's family stories that inspire the novel." - The Bulletin of the Center for Children's Books