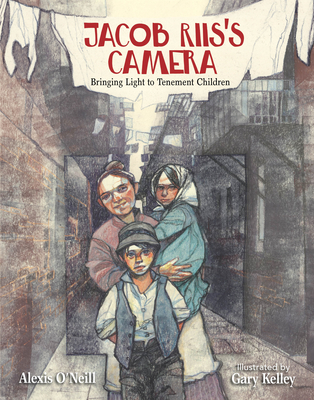 Jacob Riis's Camera
Bringing Light to Tenement Children
Hardcover

* Individual store prices may vary.
Description
This revealing biography of a pioneering photojournalist and social reformer Jacob Riis shows how he brought to light one of the worst social justice issues plaguing New York City in the late 1800s--the tenement housing crisis--using newly invented flash photography.

Jacob Riis was familiar with poverty. He did his best to combat it in his hometown of Ribe, Denmark, and he experienced it when he immigrated to the United States in 1870. Jobs for immigrants were hard to get and keep, and Jacob often found himself penniless, sleeping on the streets or in filthy homeless shelters. When he became a journalist, Jacob couldn't stop seeing the poverty in the city around him. He began to photograph overcrowded tenement buildings and their impoverished residents, using newly developed flash powder to illuminate the constantly dark rooms to expose the unacceptable conditions. His photographs inspired the people of New York to take action. Gary Kelley's detailed illustrations perfectly accompany Alexis O'Neill's engaging text in this STEAM title for young readers.
Praise For Jacob Riis's Camera: Bringing Light to Tenement Children…
Bank Street College of Education Best Book of the Year

"In 1870, Danish-born Jacob Riis immigrated to the United States, where... he witnessed the horrendous living conditions of New York City's poorest immigrants. (H)e took photographs and gave lectures accompanied by life-size reproductions of those photos to any group that would listen. O'Neill... presents his biography in clear, direct language that conveys the facts of his life along with the essence of his nature. Kelley's ink-and-pastel illustrations in muted tones capture the gray dreariness of the scenes as well as dark shadows of interpretations of the photos. A thoughtful, well-researched homage to an almost forgotten hero." —Kirkus Reviews

"In this picture-book biography, O'Neill's vivid narration and Kelley's aptly dark-hued illustrations combine to introduce readers to (Jacob Riis, a) social justice advocate. Riis...(wrote) about the poverty immigrants faced and the harsh living conditions in the city's tenement buildings. His writing made little difference, however, until he also captured the truth with photography. O'Neill highlights the positive impact his images made, including on a young Teddy Roosevelt, who used his power to make changes. An author's note, a time line, annotated examples of Riis' photos, and other back matter provide a broader perspective of Riis' accomplishments and the power of media to transform lives." —Booklist

"The compelling activism of Jacob Riis animates this beautifully illustrated picture book biography. O'Neill pulls Riis's life as a U.S. immigrant from Denmark into sharp focus, using vignettes to demonstrate how his experiences amplified his activism. Riis was outraged by the state of New York City's tenements and slums but was unable to effect change until he hit upon the idea of using flash photography to capture images of the decrepit buildings and their occupants. Kelley's expressive illustrations, created using etching ink and pastel, mix human touch and snapshot sensibility, and give a nod to Riis's photos." —Publishers Weekly

"When he was 21, [Jacob] Riis immigrated to the United States. As an immigrant in 19th-century New York, he learned firsthand how hard life was for the city's poor. Determined to help, he became a crime reporter and eventually a documentary photographer, writing books and lecturing to encourage change with his powerful images of tenement dwellers. Kelley's atmospheric illustrations portray the dark and dirty tenements of Riis's work while still balancing light and warmth. O'Neill's text is thorough and informative. (T)he author skillfully creates a fascinating biography of a man who contributed  significantly to social reform. A nice addition to biography collections." —School Library Journal

"Progressive Era activist Jacob Riis...is the focus of this picture book biography, which hustles through Riis' early years in Denmark to focus on his journalist career and breakthrough idea to rivet public attention on the plight of the poorest tenement dwellers. No stranger to the hardship of immigrant life, Riis devoted himself to clearing substandard housing and bringing sunlight and parks into overcrowded neighborhoods. When passionate prose failed to win hearts, flash photography that captured residents in their squalid tenements proved convincing. Kelley's moody ink and pastel illustrations ably capture the overlapping themes of grim poverty and black and white photography technique. Lengthy end matter comprises historical background, a timeline, sources notes, multi-media bibliographies, and selected reproductions of Riis' photographs." —The Bulletin of the Center for Children's Books
Calkins Creek, 9781629798660, 48pp.
Publication Date: March 18, 2020
About the Author
Alexis O'Neill is the author of picture book biographies about people who made an impact on the world such as Homan Walsh (The Kite That Bridged Two Nations), Jacob Riis (Jacob Riis's Camera), and Melvil Dewey (The Efficient, Inventive (Often Annoying) Melvil Dewey) as well as books about friendship such as in The Recess Queen, and others. In addition to writing books for kids, she is an instructor for the UCLA Extension Writers' Program. The California Reading Association awarded Alexis the Dr. Marcus Foster Memorial Award for making significant and outstanding contributions to reading throughout California. She lives in southern California with her husband and can be reached at alexisoneill.com.

Gary Kelley is the award-winning illustrator of multiple picture books. His awards include twenty-seven gold and silver medals from the Society of Illustrators in New York and the Best-in-Show recognition in New York and Los Angeles Illustrators' Exhibitions. He was elected to the Society of Illustrators (NY) Hall of Fame in 2007. Visit garykelleystudio.com.
or
Not Currently Available for Direct Purchase