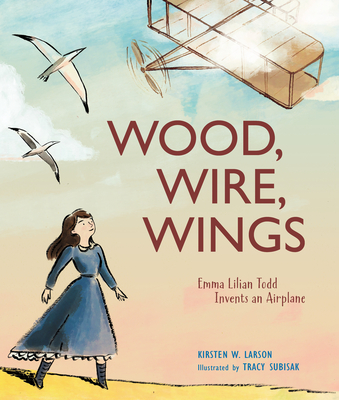 Wood, Wire, Wings
Emma Lilian Todd Invents an Airplane
Hardcover

* Individual store prices may vary.
Description
NCSS/CBC Notable Social Studies Trade Book • NSTA Best STEM Book List


This riveting nonfiction picture book biography explores both the failures and successes of self-taught engineer Emma Lilian Todd as she tackles one of the greatest challenges of the early 1900s: designing an airplane.

Emma Lilian Todd's mind was always soaring--she loved to solve problems. Lilian tinkered and fiddled with all sorts of objects, turning dreams into useful inventions. As a child, she took apart and reassembled clocks to figure out how they worked. As an adult, typing up patents at the U.S. Patent Office, Lilian built the inventions in her mind, including many designs for flying machines. However, they all seemed too impractical. Lilian knew she could design one that worked. She took inspiration from both nature and her many failures, driving herself to perfect the design that would eventually successfully fly. Illustrator Tracy Subisak's art brings to life author Kirsten W. Larson's story of this little-known but important engineer.
Praise For Wood, Wire, Wings: Emma Lilian Todd Invents an Airplane…
A Bank Street College of Education Best Book of the Year

"A heroine of the skies is given her due....(a) person who disappeared into history after adding to the knowledge of the era, Todd is resurrected here as a role model who can provide encouragement and inspiration by virtue of her single-minded dedication and resilience...(e)nergetic, thoughtful text punctuated by Todd's own words and Subisak's inventive, warmly outlined full-color illustrations follow her life....(c)elebrates its subject's resilience as much as her contributions to STEM and aeronautics." --Kirkus Reviews

"In tribute to the hands-on spirit of all inventors— but especially women—Larson profiles a little-known, self-taught engineer who designed a working aircraft that improved upon the Wright brothers' model. In windswept digital watercolors, Subisak depicts her as an active, confident figure. Back matter... includes a comprehensive source list and a general time line of aviation in the Wright era. Todd herself was not a pilot, but her story pairs naturally with those about the first generations of female aviators." —Booklist

"While the Wright brothers are known for inventing the first airplane, another inventor wanted to make the design of the airplane more practical. Emma Lilian Todd, sparked by curiosity to tinker, engineer, and invent even as a child, worked to build her own airplane. The illustrations give life to this narrative nonfiction account of Todd's upbringing and her thirst for solving problems through prototyping. Quotations ... are sprinkled throughout the narrative, providing insight into Todd's creative process. This inspiring work shines a light on a lesser-known inventor who was the first woman to design an airplane." —School Library Journal

"Persistence in the face of repeated failures is a recurring theme in this book about Todd, a little-known pioneer in early-20th-century aviation design. Todd's childhood love of tinkering...serves her well in her adult quest to design a working airplane. Todd's plucky perseverance appeals, and Subisak's cheerily cluttered loose-lined illustrations conjure a world of patent diagrams, dreams, experimental machines, and grit." —Publishers Weekly
Calkins Creek, 9781629799384, 48pp.
Publication Date: February 25, 2020
About the Author
Kirsten W. Larson used to work with rocket scientists at NASA. Now she writes about rocket science--and just about any science--for kids. She is the author of more than twenty-five children's books, including the Robotics in Our World series. Visit https://kirsten-w-larson.com.

After working as an industrial designer for seven years, Tracy Subisak began her business as a freelance illustrator and designer. She specializes in visual storytelling through children's literature, storyboarding, and design work. Visit tracysubisak.com.