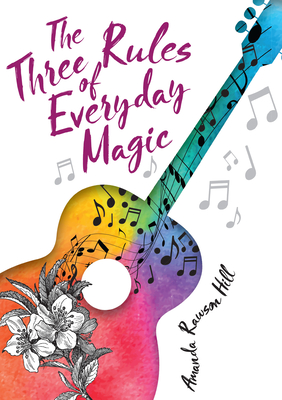 The Three Rules of Everyday Magic
Hardcover

* Individual store prices may vary.
Description
Magic doesn't work the way you think it will, but it's what Kate needs as she confronts friendship trouble, her parents' divorce, and Grammy's dementia in this lyrical middle-grade coming-of-age novel for fans of Half a Chance and The Same Stuff as Stars.

Kate has trouble believing in magic, especially since the people she loves keep leaving her. But when Grammy tells her the three rules of everyday magic--believe, give, and trust--Kate can't resist believing, at least a little. Following Grammy's advice, she tries to bring her father, her best friend, and even Grammy herself back to her. Nothing turns out as Kate expects, yet the magic of giving--of trusting that if you love and give, good things will happen, even if you don't see them happen--will change Kate and her family forever.
Praise For The Three Rules of Everyday Magic…
"Narrated in Kate's quiet first-person voice, the book is the book is divided into three parts, one for each rule… (r)eading cultivates empathy. This should do the trick." - Kirkus Reviews

"While familiar unions are falling apart, other surprising connections are blossoming. As Kate struggles to untangle the truth and find her power, she discovers new friendships and the enduring love of her family. The theme of loss is heartrending, the story line fast-paced and compelling. A fine addition to middle grade collections in need of character-driven family stories."- School Library Journal

"Using the three rules of everyday magic—believe, give, and trust—…Kate tries to fix the broken people and relationships in her life. Credibly flawed and feisty, (she) cycles through embarrassment, hope, determination, anger, and even some mild depression as she comes to terms with what is and isn't within her control…Without being overoptimistic, this shows the magic of belief and trust when combined with action." - The Bulletin of the Center for Children's Books

"The real beauty of the Everyday Magic is that it offers neither magic solutions nor easy fixes, but personal strength and a path to acceptance."
—Suzanne LaFleur, author of Listening for Lucca

"This honest and heartfelt story sings of family, friendship, and helping each other through the hard things. The Three Rules of Everyday Magic made me smile and ache and, ultimately, absolutely believe."
—Elaine Vickers, author of Like Magic
 
"This stand-out debut is a vivid portrayal of shifting friendships and family ties. Through poetic detail and empathy for her characters, Amanda Rawson Hill has created a story that will stay with readers long after 'The End.' I want to hand this book to every kid who is secretly struggling. They will find a trusted friend in Kate Mitchell."
—Laura Shovan, author of The Last Fifth Grade of Emerson Elementary
Astra Young Readers, 9781629799407, 192pp.
Publication Date: September 25, 2018
About the Author
Amanda Rawson Hill grew up in Rock Springs, Wyoming with a library right out her back gate. She moved to Provo, Utah, to earn her bachelor's degree in chemistry at Brigham Young University. Today she resides in Atwater, California with her husband and three children. She loves to knit, homeschool, make music, and volunteer in the community. The Three Rules of Everyday Magic is her first novel.