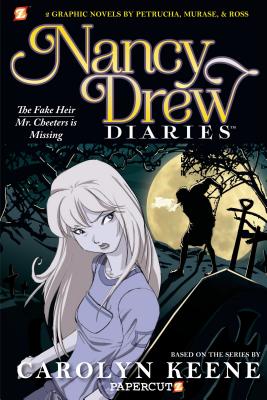 Nancy Drew Diaries #3 (Paperback)
Nbm/Papercutz, 9781629910543, 176pp.
Publication Date: October 21, 2014
* Individual store prices may vary.
Description
In "The Fake Heir" Nancy, along with Bess and George, find the wreck of an old yacht with a safe inside full of jewelry worth a small fortune. Cousins of the Druthers, who are clients of Nancy's dad Carson Drew, owned the yacht. Their will leaves everything to Mr. Druthers, specifically excluding his spouse, (whom the cousins hated), but no one's seen him for ten years and the rumor is that Mrs. Druthers murdered him Things take a surprising turn when suddenly Mr. Druthers reappears But then Mrs. Druthers disappears Join Nancy Drew as she solves the mystery of the fake heir Then, in "Mr Cheeters is Missing" when the eccentric Blanche Porter reports that her beloved Mr. Cheeters has vanished, it isn't your standard missing persons case. As Nancy Drew soon discovers, Mr. Cheeters, is a pet chimp. Or is he? Based on a preliminary investigation and information obtained from Blanche's brother, Lawrence, the River Heights police dismiss the case as bogus - doubting that there ever was a Mr. Cheeters to begin with. But when Nancy Drew discovers there's a missing diamond necklace as well - she's on the case.
About the Author
STEFAN PETRUCHA is the author of such YA series as Timetripper, Split, and The Rule of Won, as well as THE THREE STOOGES, POWER RANGERS, PAPERCUTZ SLICES, and many other series from Papercutz. He has written X-Files comics for Topps, Disney comics for Egmont, and he was nominated for a Stoker Award for his graphic novel, Kolchak: The Devil in the Details.SHO MURASE is half Japanese and half Korean but her first language is Spanish because she grew up in Spain. She moved from Europe to Vancouver and from Vancouver to Maverix Studios in California, where she works in animation and draws comics. She is the author of Sei, Death and Legend published by Image Comics and ME2 from Tokyopop.
or
Not Currently Available for Direct Purchase