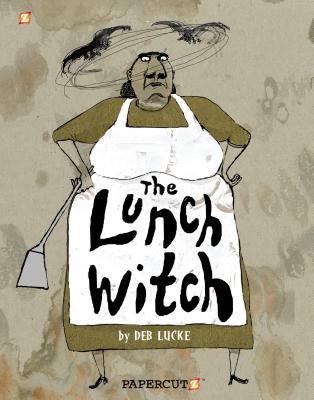 The Lunch Witch #1 (Paperback)
Papercutz, 9781629911625, 180pp.
Publication Date: March 17, 2015
* Individual store prices may vary.
Description
For generations and generations, the women of Grunhilda's family have stirred up trouble in a big, black pot. Grunhilda inherits her famous ancestors' recipes and cauldron, but no one believes in magic anymore. Despite the fact that Grunhilda's only useful skill is cooking up potfuls of foul brew, she finds a job listing that might suit her: lunch lady. She delights in scaring the kids until she meets a timid little girl named Madison with a big set of glasses who becomes an unlikely friend. Madison needs help at school and at home, but helping people goes against everything Grunhilda's believes in as a witch! Will this girl be able to thaw the Lunch Witch's icy heart? Or will Grunhilda turn her back on a kindred spirit?
About the Author
DEB LUCKE is a writer and illustrator of children's books with an interest in bad behavior and horribly embarrassing incidents. Since her own childhood had plenty of both she is never short of material. Prior to getting involved in children's books Deb worked with a lot of talented people in advertising from whom she learned how to trap and snare an idea. She also studied filmmaking which influenced the way she visually tells her stories. She finds camaraderie in a group of children's book illustrators that meets in the Hudson Valley and a group of writers that meets in New York. Deb lives and works in Cold Spring with her partner, Paul Hartzell, a writer. Both are occasionally badly behaved.
or
Not Currently Available for Direct Purchase