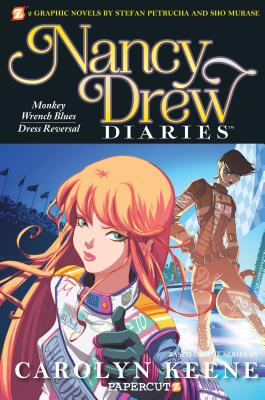 Nancy Drew Diaries #6 (Paperback)
Papercutz, 9781629912936, 176pp.
Publication Date: December 15, 2015
* Individual store prices may vary.
Description
"Monkey-Wrench Blues" and "Dress Reversal" In "Monkey-Wrench Blues" Nancy (and mechanic Bess) is asked to drive a fuel-efficient prototype in a government-sponsored race. But someone is determined that Nancy and Bess lose- at any cost! Plus, when Bess and George help Nancy pick out a dress for Deirdre's big party, little do they suspect it's the identical dress Deirdre will be wearing. After a minor altercation with the perturbed hostess, Nancy leaves the party only to be grabbed by a dark figure, tossed into a van and kidnapped! That leaves Bess and George, with some help from Ned, to try and solve the mystery of exactly what just happened to Nancy in "Dress Reversal."
About the Author
STEFAN PETRUCHA is the author of such YA series as Timetripper, Split, and The Rule of Won, as well as THE THREE STOOGES, POWER RANGERS, PAPERCUTZ SLICES, and many other series from Papercutz. He has written X-Files comics for Topps, Disney comics for Egmont, and he was nominated for a Stoker Award for his graphic novel, Kolchak: The Devil in the Details.
SHO MURASE is half Japanese and half Korean but her first language is Spanish because she grew up in Spain. She moved from Europe to Vancouver and from Vancouver to Maverix Studios in California, where she works in animation and draws comics. She is the author of Sei, Death and Legend published by Image Comics and ME2 from Tokyopop.
or
Not Currently Available for Direct Purchase