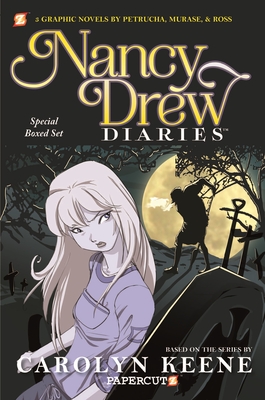 Nancy Drew Diaries Boxed Set (Multiple copy pack)
#1-3
Papercutz, 9781629914527
Publication Date: April 11, 2017
Other Editions of This Title:
Multiple copy pack (4/11/2017)
* Individual store prices may vary.
Description
In Volume 1, Nancy stars in a horror movie about a monstrous River Heights urban legend — but is it really an urban legend? And will Nancy, Bess, and George live long enough to find out? Plus, it's double trouble for the world's greatest teen super sleuth in "Writ in Stone!" A sweet young boy Nancy has often babysat has gone missing, and while Nancy picks up the trail, a historic stone marker that may prove the Chinese discovered America before Columbus is stolen! Can Nancy solve two baffling mysteries at the same time, with all of River Heights watching?
In Book 2, River Heights is celebrating Nostalgia Week and everyone in town is dressing up and acting like it was 1930 – including Nancy, Bess, and George! Wait 'till you see Nancy in her roadster! But when crimes in Emma Blavatsky's antique dollhouse start coming true, Nancy has a full-blown mystery on her hands in "The Haunted Dollhouse." Then, Nancy gets a call for help late one night from a tech support girl she befriended over the phone. When the line goes dead, Nancy is determined to get to the bottom of things. Soon, Nancy, her dad, and friends George and Bess are on their way to India to find Kalpana, "The Girl Who Wasn't There."
Finally, in Volume 3, in "The Fake Heir" Nancy, along with Bess and George, find the wreck of an old yacht with a safe inside full of jewelry worth a small fortune. Cousins of the Druthers owned the yacht and their will leaves everything to Mr. Druthers, but no one's seen him for ten years. The rumor is Mrs. Druthers murdered him! Things take a surprising turn when suddenly Mr. Druthers reappears! But then Mrs. Druthers disappears! Join Nancy Drew as she solves the mystery of the fake heir! Then, in "Mr Cheeters is Missing" when the eccentric Blanche Porter reports that her beloved Mr. Cheeters has vanished, it isn't your standard missing persons case. As Nancy Drew soon discovers, Mr. Cheeters, is a pet chimp. Or is he? Based on a preliminary investigation and information obtained from Blanche's brother, Lawrence, the River Heights police dismiss the case as bogus – doubting that there ever was a Mr. Cheeters to begin with. But when Nancy Drew discovers there's a missing diamond necklace as well – she's on the case!
About the Author
STEFAN PETRUCHA has written X-Files comics and for Disney comics. He is the author of such YA series as "Timetripper," "Split," "The Rule of Won," and "Blood Prophecy," which was published in 2010 to rave reviews. Stefan authored the hit Papercutz graphic novel Tales from the Crypt #8 "Diary of a Stinky Dead Kid" and appeared on the latest season of A&E's "Paranormal State." He also co-wrote the official behind-the-scenes book with show creator Ryan Buell.
SHO MURASE is half Japanese and half Korean but her first language is Spanish because she grew up in Spain. She moved from Europe to Vancouver and from Vancouver to Maverix Studios in California, where she works in animation and draws comics that won't leave her enough time to sleep. She is the author of Sei, Death and Legend published by Image Comics and ME2 from Tokyopop.
or
Not Currently Available for Direct Purchase