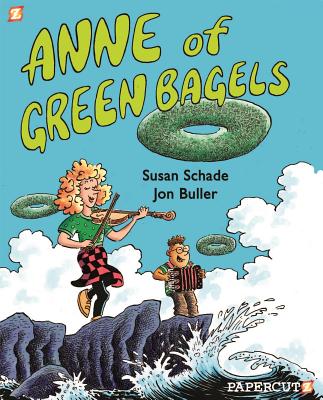 Anne of Green Bagels (Paperback)
Papercutz, 9781629914657, 184pp.
Publication Date: August 9, 2016
* Individual store prices may vary.
Description
On her first day at her new school, Anne is saddled with the nickname Anne of Green Bagels, thanks to the health-food sandwich her grandmother has made her for lunch. Can things get any worse? Already her father has left home to try out his newest crackpot invention, the Pedestrian Mobile Home, and her mother has moved them from New Mexico to the cookie-cutter community of Megatown. Then she meets Otto, who shares her interest in music and in her favorite TV show, The Blimptons. Together they prepare to enter the school talent show with an original composition - Wolfman Stomp. When Anne sees the drawings in a childhood notebook of her father's, she wonders -- could it be that he was the real inventor of the Blimptons? And can she somehow get him to come home and claim the credit he deserves?
About the Author
Susan Schade has written over 40 kids' books, most of them done in collaboration with her husband, Jon Buller. Susan does most of the writing, and Jon Buller does most of the illustrating, but they both do a little bit of each. For more details of their lurid and scandal-filled lives and careers, visit their website, www.bullersooz.com.
or
Not Currently Available for Direct Purchase