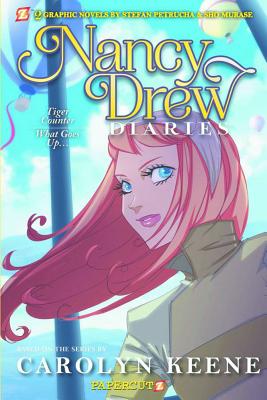 Nancy Drew Diaries #8 (Paperback)
Papercutz, 9781629915937, 176pp.
Publication Date: November 8, 2016
* Individual store prices may vary.
Description
In "Tiger Counter," Nancy Drew and her friends Bess and George, have volunteered at the River Heights Animal Protection Center, never dreaming that they might soon need protection from the animals. But that's what happens when a truck delivering circus tigers breaks down by the woods, and the big cats escape. Nancy and her friends were nearby responding to a call from Mrs. Eartha—one of her pet cats was attacked by a coyote—when suddenly they're swept up in the deadly mystery of the missing tigers. In "What Goes Up…" Nancy Drew gets caught up—lieterally—with a crook with a million dollars in stolen cash. Chief McGinness is in hot pursuit, so the desperate thief decides to escape in Nancy's hot air balloon—except he doesn't want Nancy along for the ride. Let's hope that what goes up can come back down… alive!
About the Author
STEFAN PETRUCHA is the author of such YA series as Timetripper, Split, and The Rule of Won, as well as THE THREE STOOGES, POWER RANGERS, PAPERCUTZ SLICES, and many other series from Papercutz. He has written X-Files comics for Topps, Disney comics for Egmont, and he was nominated for a Stoker Award for his graphic novel, Kolchak: The Devil in the Details.
or
Not Currently Available for Direct Purchase