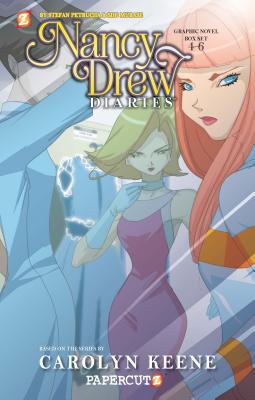 Nancy Drew Diaries Boxed Set (Multiple copy pack)
#4-6
Papercutz, 9781629915982
Publication Date: April 11, 2017
Other Editions of This Title:
Multiple copy pack (4/11/2017)
* Individual store prices may vary.
Description
In Volume 4, Ned Nickerson is arrested for shoplifting! Nancy Drew threatened with a lawsuit! A rare computer chip stolen from Rackham Industries! It all gets even more exciting when Nancy receives a mysterious charm bracelet in the mail – and soon a crime is committed for each charm! Will Nancy, even with the help of Bess and George, be able to find the real culprit before Ned is convicted? Plus, Nancy Drew battles the Abominable Snowman in "Global Warning"!
Volume 5 collects parts one and two of The "HIGH MILES Mystery"! Has Nancy Drew solved the world's energy crisis? On a mission, sponsored by young, rich, and handsome Ralph Credo, Nancy teams up with eccentric scientist Roy Hinkley, to find an amazing high efficiency engine able to operate at an unbelievable 200 miles per gallon! The prototype engine, mounted on a tank, was part of an experiment during the final days of World War II. There's just one problem, the engine and the tank are haunted.
And in Volume 6, Nancy (and mechanic Bess) is asked to drive a fuel-efficient prototype in a government-sponsored race. But someone is determined that Nancy and Bess lose- at any cost! Read what happens in "Monkey-Wrench Blues". Plus, when Bess and George help Nancy pick out a dress for Deirdre's big party, little do they suspect it's the identical dress Deirdre will be wearing. After a minor altercation with the perturbed hostess, Nancy leaves the party only to be grabbed by a dark figure, tossed into a van and kidnapped! That leaves Bess and George, with some help from Ned, to try and solve the mystery of exactly what just happened to Nancy in "Dress Reversal.
About the Author
STEFAN PETRUCHA is the author of such YA series as Timetripper, Split, and The Rule of Won, as well as THE THREE STOOGES, POWER RANGERS, PAPERCUTZ SLICES, and many other series from Papercutz. He has written X-Files comics for Topps, Disney comics for Egmont, and he was nominated for a Stoker Award for his graphic novel, Kolchak: The Devil in the Details.
SHO MURASE is half Japanese and half Korean but her first language is Spanish because she grew up in Spain. She moved from Europe to Vancouver and from Vancouver to Maverix Studios in California, where she works in animation and draws comics. She is the author of Sei, Death and Legend published by Image Comics and ME2 from Tokyopop.
or
Not Currently Available for Direct Purchase