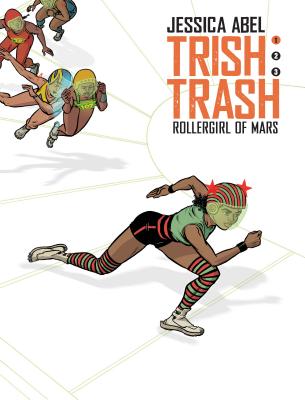 Trish Trash #1: Rollergirl of Mars (Hardcover)
Rollergirl of Mars
Nbm/Papercutz, 9781629916149, 64pp.
Publication Date: November 15, 2016
Description
Two centuries from now, Trish "Trash" Nupindju lives on the newly inhabited Mars, whose settlers live under harsh and ruthless conditions. Trish dreams of only one thing: becoming a hoverderby star. It seems like making the professional derby team is the only way to escape a future of poverty on her parents' farm. But, what happens when a half-dead Martian shows up on her doorstep and changes everything? Find out in the first volume of the new science fiction trilogy created by Jessica Abel.
About the Author
Cartoonist and writer JESSICA ABEL, from Chicago, IL, is the author of the graphic novel La Perdida (winner of the 2002 "Best New Series" Harvey Award) as well as two collections of stories from her omnibus comic bookArtbabe. She and her husband, cartoonist Matt Madden, were series editors for The Best American Comics from 2007 to 2013 and teach at various institutions. Together they've authored two textbooks about making comics, Drawing Words & Writing Pictures and Mastering Comics.
Advertisement